You can always tell when a business is family owned and operated. When I visited Dunleavy's Irish Pub on Sullivan's Island, it was clear to me that owner Jamie Maher took distinct pride in his pub, a business that had been passed down from earlier generations.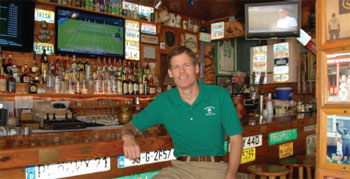 "My uncle and my mother initially opened Dunleavy's in 1992," Maher said. "Their names are Bill and Patti Dunleavy. They're Irish, of course!
Maher's goals for Dunleavy's are to keep the pub friendly, offer excellent food and maintain a variety of beers on tap.
"As far as beers go, we sell a good selection of Irish imports – Guinness, Harp, Smithwick's – but we try to keep the local flavor around as well with beers from Holy City and Sweetwater, for example."
"What's your favorite beer and food pairing?" I asked.
"You can't go wrong with a burger and a Guinness," said Maher. "But when it comes to the food, I take pride in the chicken wings. They're our house specialty. We bake and grill them; we don't fry them."
I ordered six of the teriyaki wings to see if he was bluffing. He wasn't – they were unbelievably good.
"These are fantastic!" I exclaimed.
"I'd put them up against any wings in the city," said Maher. "Other menu items that we sell a lot of are the shrimp burger, which is like a crab cake sandwich but with shrimp, the hot and cold deli sandwiches and the blue plate lunch specials."
If you're like me and didn't know that Dunleavy's offers blue plate specials during the week, I suggest you shoot me an email and we make a lunch date. On Mondays, they offer meat loaf with potatoes and vegetables; other dishes are hearty selections such as lasagna with garlic bread or grilled pork chops. Each meal is just $7.50, so you can get a wellrounded lunch without breaking the bank.
Looking around Dunleavy's is like taking a trip through time from the pub's early days to the present. The amount of memorabilia is intriguing; Maher said it's mostly the customers who provide the décor.
"When my uncle and mom first opened the pub, a loyal customer asked what he could do in order to see himself on our wall," Maher remembered with a laugh. "My uncle said to put on a Dunleavy's shirt and so he did. Now, we have 20 years worth of fan photos."
The Dunleavy's fans, wearing the namesake T-shirts, show off their loyalty to the pub in different locations all over the world. In addition to the pictures, there's an eclectic assortment of old beer bottles, sports paraphernalia, road signs and other fun stuff to look at while you eat and drink.
Like most institutions, Dunleavy's plays a key role in a signature event. The 17th annual Polar Bear Plunge into the Atlantic Ocean is set for New Year's Day 2013. Sure, Folly Beach has one nowadays, too, but the Dunleavy's plunge is the original, according to Maher.
"The plunge started with six or seven guys, all friends of my uncle's," explained Maher. "They started it as a way to raise money for the Special Olympics, and we've been affiliated with the charity ever since. We do it every year now, and we're proud to have raised over $100,000 for the cause."
Visit Dunleavy's Irish Pub at 2213 Middle St. on Sullivan's Island or on the Web at dunleavysonsullivans.com, or call (843) 883-9646.