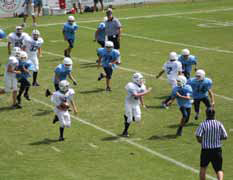 Football is a time-honored tradition throughout the United States. In towns and cities large and small, the roar of the crowd can be heard in every corner of the country and everywhere in between. It's no different in Mount Pleasant, where the Recreation Department provides a place to play for nearly 65 teams and a way to participate for 170 volunteer coaches.
"We have a complete football program that begins with flag football that teaches the fundamentals of the game and tackle football which introduces pads," said Jimmy Millar, Athletic Division chief and former football coach. "There are over 980 children who participate in our football programs, and we are very proud of that."
Parents should plan to enroll their children early – signup starts in July – and should expect equipment, which generally lasts for two seasons, depending on the child's growth, to cost around $200.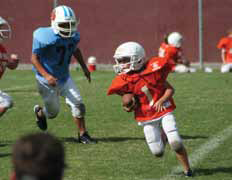 Before the start of the season, the Wando High School coaching staff holds a clinic for volunteer coaches. The games kick off with a jamboree at Wando Stadium; all team members and cheerleaders are introduced on the field, then the teams scrimmage for one quarter.
Flag football is for children ages 5 through 8, broken into two age groups, while tackle football takes in four age groups: small fry, mite, JV middle school and varsity middle school.
"Each year, there is a local NFL Punt, Pass and Kick competition for the players," Millar said. "We also have all-star teams, and last year our 9U and 12U teams won state championships. Since 2005, Mount Pleasant has won 11 state championships."
"I grew up in this program so I know our children have a great situation when it comes to facilities, the program and the people running the program," said Millar, a former Mount Pleasant Recreation Department coach and player. "Overall, we have a great football program with a dedicated staff and committed coaches and players."
To learn more about recreational football in Mount Pleasant,
visit www.TOMPSC.com or call (843) 884-2528.