Adam Von Ins, founder of Air & Earth, opened his board shop in Mount Pleasant 10 years ago. Ever since, his company has faced a bit of a dilemma – finding quality boards designed for the everyday Charleston surfer and paddleboarder.
"Most big-brand boards are made for spectacular waves like those in California or Hawaii – not the smaller ones we have in the Lowcountry," Von Ins explained. "Locals would spend lots on boards made primarily from synthetic compounds but would only have big smiles in very specific conditions."
To increase that "big smile" quotient, Von Ins decided to create "greener" surfboards and paddleboards better suited to Lowcountry residents – at a reasonable price.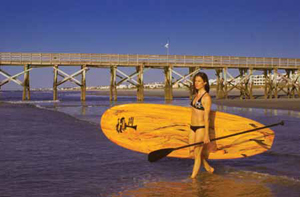 "We wanted boards designed for our weather, waters, wave patterns and wallets," Von Ins said.
About 18 months ago, he started designing shapes and a logo for Charleston's newest board line, Palm Head Boards, and he found a company located at the source of renewable materials to make them by hand.
"This gives each Palm Head board a unique touch and a smaller carbon footprint than traditional boards," he explained. "It was a big risk, but the prototypes we created are incredible. Everyone who tries one wants one because they look great, are priced great and work for casual riders with normal day jobs."
The Palm Head line features surfboards and paddleboards made mostly from exotic renewable materials such as bamboo and Asian zebra wood.
"I'll admit there are a few select carbon and Kevlar models for performance awesomeness," Von Ins explained.
To find the right board for you, check out the full selection at Air & Earth or visit www.CatchSomeAir.us or www.PalmHeadBoards.com.