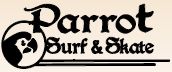 For about a dozen years, Angelo Vlcek has been outfitting East Cooper and Charleston residents with skateboards, wakeboards, surfboards and all manner of surf and skate supplies. In fact, he's watched young surfers and skaters grow up as they have come and gone from Parrot Surf & Skate, purchasing boards, shorts, shoes and gear.
Vlcek enjoys interacting with customers, repairing surfboards in a small workshop behind the store and supporting community events and causes. Vlcek may be a native of the Czech Republic, but he's put down solid roots in the Mount Pleasant community.
He donates products to silent auctions, sponsors community programs such as Camp Happy Days and is a longtime supporter of events at East Cooper Montessori School and Moultrie Middle School. Vlcek takes local youth on field trips to a large skate park in Columbia and sponsors a surf team.
"We just try to be part of it," he said. "I'm passionate about the community."
Community and customer service are hallmarks of Parrot Surf & Skate.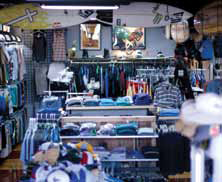 The shop carries a large selection of brands such as Rip Curl, Billabong, O'Neill, Vans, Volcom, Nixon and Quiksilver, as well as clothing from OBEY and Australian-based Insight, which feature more artistic designs. Watches, sunglasses, shoes and sandals are also part of the shop's catalog of offerings.
Vlcek selects brands that are durable and of high quality, made to last and hold up to the rigorous demands of surfing and skating. He has an extensive line of boy's and men's clothing for outdoor sports, as well as button-down shirts that, as Vlcek said, are suitable for more dressy occasions.
The demand for more boy's and men's clothing led him to expand those offerings and scale back on the women's and girl's clothing he offers. Vlcek didn't want to leave the women out, so he opened Salty Girls on Houston Northcutt Boulevard about two years ago.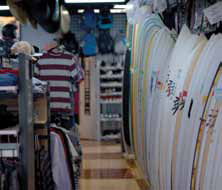 When it comes to boards and gear, Vlcek and his team test the products they sell so they will be knowledgeable about what's in the shop and share their expertise with their customers. They may not be the cheapest, he said, but they have top-notch products and a large selection. He gives honest advice, including steering a customer away from a purchase if it's not the right fit.
"It's not worth buying the wrong board," he said.
Vlcek offers a selection of boards appropriate for the smaller waves that crash on the East Coast, and he takes his business to the next level by doing repairs, which isn't all that common among surfboard shops. For Vlcek, it's just one more way to exhibit his dedication to customer service.
Vlcek doesn't have as much time for surfing these days as he might like. Growing up in Europe, he did a great deal of snowboarding and didn't start surfing until he was in his early 20s.
"It became a passion," he said. "It's a feeling that can't be matched."
Parrot Surf & Skate, located at 811 Coleman Blvd. in Mount Pleasant, is open from 10 a.m. to 7 p.m. Monday through Saturday and from 11 a.m. to 5 p.m. on Sunday. For further information, visit www.parrotsurfshop.com or call (843) 884-1035.