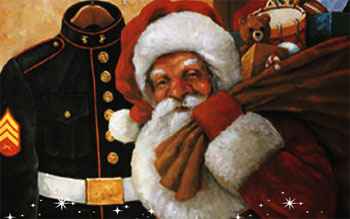 Christmas morning is no more than a fleeting dream for many Lowcountry children from lowincome families. This year, as in the past dozen years, a large number of them will wake up to a brand new toy, thanks to the Toys for Tots program.
Toys for Tots, run by the U.S. Marine Corps Reserve, has been collecting new toys and distributing them to children in need each Christmas since 1953. Last year the foundation give away millions of dollars worth of toys nationwide; in the Lowcountry, more than 35,000 toys were collected and handed out to children throughout Charleston, Berkeley and Dorchester counties.
Since the turn of the millennium, Mount Pleasant Town Councilman Kenneth Glasson, who recently retired as a Marine Corps lieutenant colonel, has produced his own event to assist the Lowcountry Toys for Tots drive: the Toys for Tots Gala.
"The intent of this event is to support the local, active-duty Marine command, which runs the local Toys for Tots program," said Glasson. "We wanted to help stabilize the toy count from year to year as commanders rotated in and out of the area."
Although Glasson spearheads the Toys for Tots Gala, he is quick to point out that many other parties play significant roles in the mission to provide every child in the Lowcounty with a Christmas toy.
"Credit for the local program's success belongs to our 25 volunteers, the Marines and local business sponsors such as Iacofano's Italian Bistro & Bar, Sticky Fingers and Ye Ole Fashioned Ice Cream & Sandwich Cafe," said Glasson. "Of course, we're also grateful to the 500-plus people who attended our gala last year."
Glasson recalled a "rocking" good time when, 12 years ago, he hosted the first gala fundraiser at his house, with only a few guests in attendance. Since that initial party, interest in Toys for Tots has become contagious in the Charleston area.
"There are literally thousands of people who donate their time and effort to make Lowcountry Toys for Tots a success, and this event is just a small portion of that," said Glasson. "It's about our community coming together to change the life of a child."
Thus, what was once a "small get-together" in Glasson's home is now an all-out celebration. This year's gala will be held Saturday, Dec. 1, from 7 p.m. to 11 p.m. at the Mount Pleasant Memorial Waterfront Park. Guests will be greeted by Miss South Carolina and escorted by Citadel cadets into a ballroom for complimentary food and beverages – yes, there is an open bar – to kick off the evening. Following cocktails and hors d'oeuvres, the band PartyMouth, which has played the event since its inception, will rock the room with a mixture of '70s, '80s and '90s party music.
This year, Glasson and other gala volunteers hope to approach the 1,000 mark in attendance.
"Our goal is to put on a fun, exciting event where everyone laughs and enjoys themselves, all in the spirit of giving," Glasson said. "With an opportunity like that, it's easy to catch on."