Muscles, Movies, Meals & Music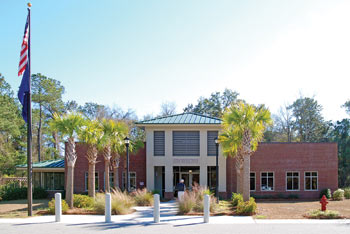 A certified fitness instructor, personal trainer and staff member at the Mount Pleasant Senior Center, Barbara Gentle put it best: "The over 50 population of today is not the same as our parents. It's a whole new world out there. Retirement is much busier and the Senior Center provides opportunities for healthy living and a great social environment."
On staff since the center opened on Von Kolnitz Road in October 2008, Gentle understands the importance of maintaining a healthy physique while enjoying the company of others.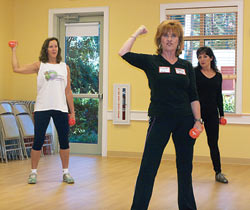 "You would be amazed by the strength training of my students. I would put my seniors up against anyone. Their progression and satisfaction is very high with what they have achieved," she pointed out.
The Mount Pleasant Recreation Department and the Senior Center offer many different exercise classes at various levels to keep seniors moving, including Zumba, strength training and weights, balance class, Pilates, yoga, tai chi, tap and line dance.
"Strengthening your core helps with balance, which minimizes falls and recovery time," Gentle explained. "We are making our students fit, healthy and free for a long time."
Chuck DeLorme, senior coordinator for the Senior Center, agrees.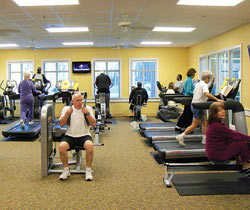 "Exercises and education are very important for seniors, both men and women," he said. "Trends are changing for what seniors want to do, and we change with them. Who would've thought tap and line dancing would be popular?
In addition to the exercise classes, members can participate in popular programs such as Lunch & Learn, a once-a-month series of talks on health issues sponsored by East Cooper Medical Center and other area businesses. Topics range from gynecologic issues for women over 50 to aching feet.
Every month there is a potluck luncheon where everyone can gather, chat with friends and meet new people while enjoying each other's culinary specialties. Everyone brings a covered dish and, after lunch, participants enjoy popular movies such as "Bridesmaids" and "Marley & Me: The Puppy Years."
On occasion, prior to the luncheon, members enjoy timeless tunes sung by classic crooners such as Bing Crosby, Frank Sinatra and Dean Martin.
"It is a great place to learn and meet people," said DeLorme. "There is so much to do here."
MOUNT PLEASANT SENIOR CENTER
840 Von Kolnitz Road
Mount Pleasant, S.C. 29464
(843) 856-2166

HOURS
Monday–Thursday
7 a.m. – 8 p.m.
Friday
7 a.m. – 6 p.m.
Saturday
8 a.m. – 1 p.m.

MEMBERSHIP FEES
$72/annually for Charleston County residents
$100/annually for non-county residents

ONGOING PROGRAMS
• AARP driver safety program;
• Drawing, calligraphy;
• Exercise classes: Zumba, strength training, Pilates, tai chi, NIA, dancing and more;
• Group games: bingo, pinochle, bridge, cribbage, canasta, dominoes and mah jongg;
• Massage therapists and personal trainers;
• Painting – watercolor and oil;
• Quilting and rug hooking;
• Social programs: coffee talks, potluck luncheons, afternoon movies and health talks;
• Wireless Internet and computer classes;
• Wii bowling.

NEWER PROGRAMS & ACTIVITIES
• Lunch & learn;
• Men's breakfast;
• Beginner tap dance class;
• Weekly visiting therapy dog;
• Learn to use your iPad/tablet;
• NIA classes on Thursday.

OTHER MEMBER BENEFITS
• Discount at the East Cooper Medical Center café;
• Digital talking book player and large print books from the South Carolina State Library;
• Exercise room;
• Understanding your medical bills – Q & A with East Cooper Medical Center;
• Computer instruction;
• Registered nurse from East Cooper Medical Center available for blood pressure readings and health-related questions or concerns;
• Physical therapist from East Cooper Medical Center available for physical therapy or rehabilitation concerns;
• Laptop computers and free Wi-Fi;
• Lending library.
Membership fees are $72 a year for Charleston County residents and $100 for non-residents. For more details on how to become a member or to learn about the programs available, visit www.TownofMountPleasant.com and click on the Senior Center link under Departments>Recreation, or call Chuck DeLorme at (843) 856-2166.