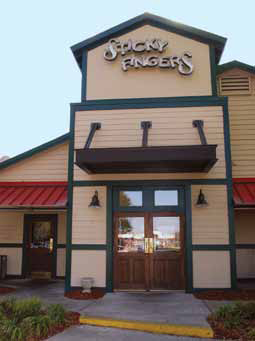 As is the case with just about any restaurant, people visit Sticky Fingers in Mount Pleasant to check out the food, a wide assortment of freshly-prepared, Southernstyle main courses, sides, salads and desserts. More often than not, they return for the now-famous customer service.
It's not that the food and moderate prices aren't reason enough to warrant a return trip. Sticky Fingers' renowned ribs are smoked to perfection every day, as are the brisket and chicken. To help mark the restaurant's 20th anniversary, shrimp and catfish have been added to the menu. And there are enough side options to suit the taste buds of all who cross the threshold of this Lowcountry tradition, from macaroni and cheese to homemade cole slaw to fried corn on the cob. You're cheating yourself if you don't at least try the sweet potato casserole.
What separates his restaurant from the rest, according to Operating Partner Robert Patterson, is the "legendary" way he and his staff treat their dine-in, takeout and catering customers.
"We cherish our guests," said Patterson, who has been with Sticky Fingers for three-and-a-half years. "There are a lot of great restaurants in the Charleston area. People will come back if the food is good, but they won't if the service isn't."
Patterson realizes the importance of treating his customers like friends and family rather than like strangers dropping by for a brief and uneventful visit. He got his start in the hospitality business at The Cloister, a five-star luxury resort, and also served as a general's aide during a stint in the Marine Corps. Though he would prefer that he and his staff minimize mistakes, he sees an inadvertent miscue as a golden opportunity to gain a customer for life.
"Nobody's perfect," he remarked. "But it's all about how you correct your mistakes. The way we do it is legendary."
There's that "L" word again.
The original Sticky Fingers opened its doors in 1992 at its current location on the Johnnie Dodds Boulevard service road, not far from the Ravenel Bridge. There now are 16 Sticky Fingers in South Carolina, North Carolina, Tennessee, Georgia and Florida. Every executive hired by the company goes through extensive training in Mount Pleasant.
"We're proud of being the original. If they're new to Sticky Fingers, they come here to experience how we do it in Mount Pleasant," Patterson said.
Sticky Fingers' customer-first attitude extends to its thriving catering business, which takes care of the needs of groups small and large, from office lunches to wedding receptions and graduation parties. This year, Sticky Fingers served more than 2,000 people at the Southeastern Wildlife Exposition oyster roast, and the restaurant's catering service offers an "amazing" frogmore stew, according to Patterson, who oversees all catering in the Charleston area and also directs the operations of the Lowcountry's other two Sticky Fingers restaurants, on the peninsula and in Summerville.
Sticky Fingers plays a key role in the Mount Pleasant Community, donating to charities such as the Carolina Youth Development Center, the Cystic Fibrosis Foundation and the Down Syndrome Association of the Lowcountry and also helping raise funds for groups at Wando High School. On Spirit Nights, the restaurant gives 10 percent of its proceeds to local schools, including James B. Edwards, Whitesides and Belle Hall elementary schools and Laurel Hill Primary. Sticky Fingers also helped raise funds for a College of Charleston girls soccer team trip to Trinidad and Tobago.
To find out more about Sticky Fingers in Mount Pleasant, visit www.stickyfingers.com or call (843) 856-7427.