Seafood by the Sea

No reservations, no china, no silver, no air conditioning, no cloth napkins and no tablecloths. Just plain ole good-as-it-gets, fresh-from-the-water Lowcountry seafood served right. That's all they do at The Wreck of the Richard & Charlene. They do a darn good job of it, too.
Fred and Patricia Scott opened The Wreck 20 years ago. Their inspiration was a derelict trawler that Hurricane Hugo tore from its mooring and slammed into the decking on the Haddrell Street Shem Creek property where the Scotts had a dock and a storage locker for bait and shrimp. The Richard & Charlene remained stuck on bare pilings for several months until scavengers carted her pieces away.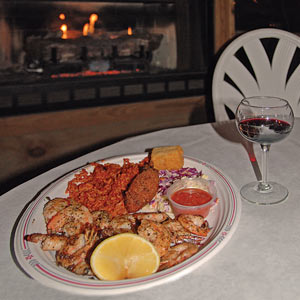 A few years later, in 1992, Fred started a restaurant at the location of the old building. Beginning with what he knew how to cook, he opened the doors with a breakfast-only menu. That grew to include lunch, then dinner specializing in the bounty that was caught right beyond the back door – South Carolina seafood.
Things got a bit hectic and, eventually, Fred cut back to a dinner-only menu that has been working for years.
If you haven't been for a while, you'll be happy to hear there have been some changes. They now accept all three major credit cards.
OK, enough about the changes and more about the food. The delicious grilled and fried shrimp, scallops and fish of the day still are coated lightly with The Wreck's special secret dust – no batter-frying here. The hush puppies are still divine, and the fried hominy squares are still made from grits, butter and bacon, then sprinkled with secret dust and fried in peanut oil – creating a crispy light coating surrounding a warm, creamy center.
"We get the best and we treat it the best," is how Fred Scott summarizes the secret to the success of his restaurant. He's also proud of the consistency of the catch and of its preparation.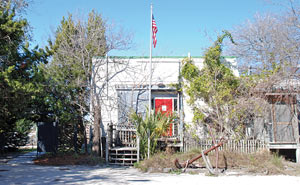 "You can count on what's coming in," he said, explaining how they strive to enhance the fresh local seafood. "Creativity transcends our ability."
He beams about how his team is "trying to do the same ole thing as good as we can."
John McMillan is Fred's son-in-law and the restaurant manager, sous-chef and baker. He prepares the clam chowder and she crab soup, basing the latter on the recipe developed by William Deas, who served as butler and cook for Charleston Mayor R. Goodwyn Rhett early in the 20th century. John modified it a bit to make it his own and to rival any version at any restaurant in Charleston. It may actually be the best; I'll have to try it again to let you know.
This family-owned business keeps it family by closing out the meal with John's banana pudding, his key lime bread pudding or his sister-in-law Suzie Scott's key lime pie. If you think key lime is too sour to follow shrimp, try the bread pudding version. It's subtle, Southern and delicious.
That just about perfectly describes The Wreck as well.
For more information, visit www.wreckrc.com.