Two fantastic fashion shows highlighted the second day of the first annual Charleston's Women's Show, held in early March at the Omar Shrine Convention Center in Mount Pleasant.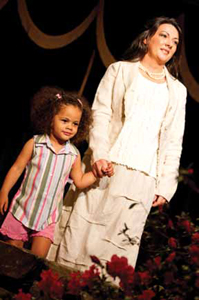 For generations, mothers and daughters have dressed alike, a fun and exciting pastime that tends to bring the two just a little bit closer. The Mother and Daughter Fashion show was emceed by Miles Crosby of Mix 95.9 and Katrina Buff of Apex Broadcasting.
"I feel the show went well and all of the girls looked fantastic," Crosby said afterward. "You can tell the moms and their children were having a lot of fun together."
In addition, women who long ago tired of basic black in the workplace got a close-up look at several options certain to liven up their day while maintaining an air of professionalism at the Dress For Success Fashion Show.
Caroline DeMille of Crescent Moon Children, based in Mount Pleasant, showcased a classic Southern look.
"The fashion show went great and I loved seeing the young girls in my clothing," she said.
Her models couldn't have agreed more.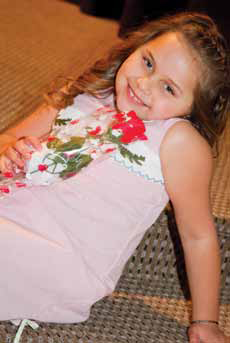 "I really like my outfit and I really like walking out on stage. I could see my daddy and brother," said Sierra Domingo, 7, of Cathedral Academy in North Charleston, who modeled a playful alligator A-line dress.
Cabana Gauze, located in the Hammock Shoppes off Highway 17 North, has been a favorite of the women of Charleston, and the ladies at the store were thrilled to participate with their line for the Mother and Daughter Fashion Show.
"We love that so many women travel to our store to handpick their classy resort wear," said owner Pamela Haynes. "It's perfect for many women cruising out of the port."
Angels and Rascals, a children's consignment store located in the Queensborough Shopping Center in Mount Pleasant, proved once again that twice owned is just as good but less expensive.
"All of Jordan's outfits were from Angels and Rascals, and all of them were cute and fabulous," said Jesica Fanning, a nurse and mother of two, about her daughter, who was in the show with her. "I wore outfits from Almost Pink, who came to the Charleston's Women's Show (from Spartanburg). The two vendors really worked well together, and we had a great time at the show."
Deborah Hart and her two daughters, Sara, 12, and Alyson, 10, who attend Palmetto Christian Academy in Mount Pleasant, also wore Almost Pink, which encourages all of its clients to "color yourself in Almost Pink!"
"At first we didn't want to do this, but now we're excited, and we loved getting our hair and makeup done," said Sara and Alyson. "Our mom looks beautiful, too."
Vanity Salon was on hand with all of the tools and tricks to prepare every model for the runway, not a simple feat with 34 models between the two shows.
"It was a lot of work, but my girls pulled through and we had fun here at the Charleston's Women's Show," said Kim Coleman, owner of Vanity Salon in Mount Pleasant.
The Dress for Success fashion show was a great success, due in no small part to the efforts of emcee Jennet Alterman, director of the Center for Women, one of the sponsors of Charleston's Women's Show.
"This is great and I love seeing clothing lines that I personally wear," said Alterman. "Looking fantastic in the workplace can make a difference in hiring, promotions and pay."
Jill Griffith, MBA, who works at the Medical University of South Carolina, modeled a wonderful outfit that shows why Maggie Rose in Summerville is the go-to place for women in business.
"I had a great time and really liked my outfit," said Griffith, who wore a royal blue and white striped tie shirt by Mesmerize that was paired with a white pencil skirt with pleat.
Shannon Sanders-Bess, a student who will enter the workplace sooner than her parents wish, modeled a classic sheath dress with a fitted waist by designer Adrianna Papell. Also from Maggie Rose, this sleeveless piece is great for year-round business attire or after five.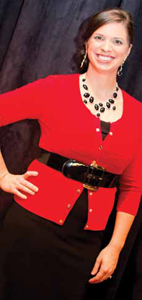 White House Black Market, located in Mount Pleasant Towne Center, another favorite of local businesswomen, offered seasonless pairing options that showed really well on the runway.
Carlie Thaman was a true professional, showcasing a red dress with three-quarter sleeves. Set against a black belt and polka dot handbag, it is sure to make a splash at the office.
Models in both shows wore undergarments by Essential Bodywear. They received a private fitting by independent consultant Elaine Clark, and most of them purchased the items they wore.
"Women really need to know the proper way to wear undergarments," Clark explained. "You have to lift those "ta-ta's." It will change your world!"
To see more of the models from both shows or to contact any of the vendors of Charleston's Women's Show, visit www.CharlestonsWomensShow.com.
Photography by Kayla Jones