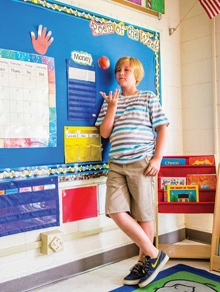 Back-to-school fashion can produce a mixed bag of excitement and angst. While a few public and private schools ease the pain by requiring students to wear uniforms or specific colors, most have vague guidelines that allow students to create their own fashion statements or fashion faux pas. Karen Felder, principal at Jennie Moore Elementary in Mount Pleasant for the past nine years, was gracious in opening the doors of her school, providing the perfect location for Mount Pleasant Magazine to showcase the latest trends in clothing for students and educators alike.
The 2012 school year will mark the last year for the Monarchs in their current building; before long, Jennie Moore and Laing Middle School will share a 60-acre campus at the school's current site.
Mount Pleasant Magazine is thrilled to bring you these photos as we celebrate a school, built in 1953, that has produced so many memories for the residents of Mount Pleasant. If these walls could talk, they would tell stories of the highs and lows of back-to-school fashion over the past six decades.
"As an administrator, I try to dress a step above everyone else because I need to set a good example for teachers, students and parents alike," said Felder, whose career spans 31 years in Charleston County education. "I think teachers have a harder time because it is a struggle with looking young and hip – but the outfit can't be delicate. Teachers have to move around the classroom and be prepared for anything, from a sick child to paint."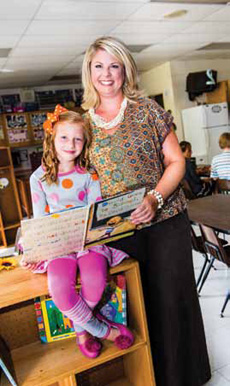 Camille Bowdoin and Justine Trotta, who share a combined 21 years in elementary education, agreed.
"Teachers definitely have to dress for comfort," they said.
All three women were dressed by Affordables, which has four locations in the Lowcountry and has been a staple of women's clothing for many years, as well as a strong supporter of local schools. Zack Kelly, owner of Affordables, lends a helping hand by providing much-needed supplies that have been slashed from school budgets. All the donations Affordables helps collect from area businesses and retailers go directly toward purchasing school supplies.
Photography for the shoot was handled by local professional Andy Hagedon of smART Image. All of the young girls were styled by Southern Belles in Northcutt Plaza.
"The trend for young children has definitely become reminiscent of the 1970s," said Southern Belles owner Susan Molony. "In our store, we have a lot of items that have bold patterns, peace signs and the solids that uniform students are looking for."
Wearing uniforms doesn't seem to be an issue for boys at Jennie Moore, but the girls have figured out ways to style their school colors.
"It's all about belts, shoes, jewelry and hair bows for the girls," explained Felder.
Summer Knight, a seventh-grader at Laing Middle School, knows exactly what she is looking for regarding fashion for the new school year.
"I'm like a lot of the girls. I like anything that is 'hippieish'," she explained.
For the boys, dress is much more casual, and the classic surf clothing lines are still a favorite from middle to high school.
"I like my shoes," said seventh grader John Bowdoin, who is wearing Vans provided by the popular Parrot Surf Shop in Mount Pleasant.
Kyle, a sophomore at Anderson College majoring in Criminal Justice, also looks great sporting a Volcom shirt and Vans shoes.
"At college, the style is definitely laid back. I think some put as minimal effort as possible in their wardrobe, which is different from high school, where people dress to impress," he pointed out.
All our models were styled and prepped on-site by the capable hands of professionals from Vanity Salon in Mount Pleasant. Kira Caudill and Myra Morgan provided the girls with playful twists and braids while the boys were pampered as well.
"The older girls like the long, straight hair and fun braids, while many of the boys are sporting faux hawks," Myra explained.
Apart from clothing, hair and makeup, Morris Nissan arrived at this historic photo shoot to show the ultimate in back-to-school fashion – a new car. Camille will drive to her first day of school in a new Nissan.
Back-to-school fashion comes in many forms, whether it is old, new or simply rejuvenated from the past. If your preschooler insists on wearing his Halloween costume again or you are at a loss when it comes to modern fashion, check out these retailers in Mount Pleasant, who will be glad to help your student start the new year in style.
photography by Andy Hagedon