Our Fashion Shoot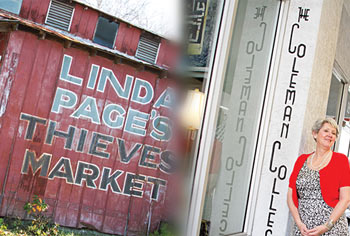 This edition of Mount Pleasant Magazine is all about being green. Earth Day is April 22; what better way to celebrate our fashion layout than with reused clothing? All of the pieces featured were donated, shared among friends or loaned from one of our consignment advertisers.
We chose the locations for the fashion shoots to highlight two segments of the home furnishing industry that promote reusing and have seen a recent surge in sales: consigned furniture and antiques.
Our first location was The Coleman Collection in Northcutt Plaza, where the interior displays gorgeous vignettes.
The second location was the ever-popular Page's Thieves Market on Ben Sawyer Boulevard. Once a sawmill, it is now home to antiques and intriguing pieces of Americana.
We also had the benefit of having the professionals from Vanity Salon on site to help with our models' hair and makeup.
Photography by Kayla Jones