Resale, Thrift & Consignment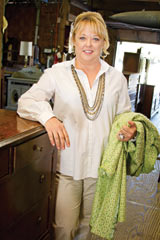 It is an interesting time to be a consumer. Newspapers and TV networks regularly push headlines about a deflated economy. Yet as so many Americans struggle, prices for goods continue to rise.
For that reason, the slogan, "Reduce, Reuse, Recycle" is not only a mantra but a battle cry for individuals and families. The negative undertone of wearing used clothes and decorating with used goods is out; resale bargain hunting is in.
According to the Association of Resale Professionals, or NARTS, the resale industry is one of the only recession-proof segments of retailing. When the economy weakens, resale not only survives but grows. Instead of discarding unwanted items, consumers are donating them to non-profit thrift shops for tax deductions or selling them through resale stores to earn cash.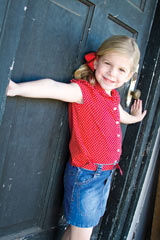 "It's difficult to know that you're flourishing because of a down economy," said NARTS Executive Director Adele Meyer. "The win-win for consumers is it's a way to make money and save money."
Mount Pleasant shoppers have an abundance of options for resale shopping, including thrift and consignment shops. Most consignment shops offer gently used, upscale items in pristine condition. Sellers earn a percentage of the selling price.
Peach Orchard Plaza on West Coleman Boulevard is a sort of one-stop consignment shopping experience. Three such stores are open for business: Groove Girl, Munchkins Children's Consignment and Trading Places Consignment.
Munchkins offers baby equipment, maternity clothes and high-end children's clothing. The store has seen more and more families take advantage of consignment – whether by selling or buying.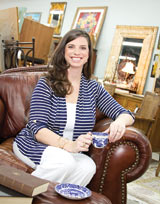 "We've got a lot of new mommas on this side of town and our consigners do very well," said store manager Tabitha Lewis. Some clothing has never been worn, as evidenced by its original sales tags. Other items are gently used. For moms on a budget, it is a welcome purchase.
"They all just say that the kids don't wear it very often, so it's great to get it pre-used," said Lewis.
Angels and Rascals, in the Queensborough Shopping Center off Anna Knapp Boulevard, opened in September 2010 – partly because of demand.
"I think that it (resale) is definitely growing in popularity. People are tightening their budgets and looking for ways to still have nice things but not spend as much money," said owner Erin Welk. "Also on the other end, they can bring their items in when they're done with them and put money in their pockets."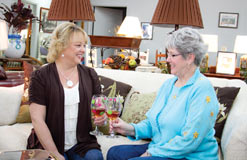 Her shop specializes in children's and maternity clothing plus equipment for babies and children. The shop is a bit different from consignment. Welk buys sellers' items upfront, and the profit then goes to the store. Since opening, she said shoppers and sellers alike have made for steady traffic.
"There are people who have been shopping consignment since forever. And there are people who are now finding it necessary, " Welk explained. "It's good for the environment. It's local. It's a great alternative to buying new."
Consigning Women & Men, in Crickentree Village along Johnnie Dodds Boulevard, is equally busy. After years in West Ashley, owner Ann Shimer expanded the business east of the Cooper River in November 2010 because of customer requests.
Unlike her original store, the Mount Pleasant location accepts and resells men's clothing. Shimer offers labels such as Prada, Gucci, Coach, Ralph Lauren, J. Crew and Banana Republic.
"It's like Christmas every day," Shimer said. "You just never know who's coming through that door."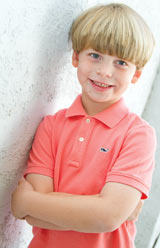 She believes a struggling economy definitely boosted shop activity – both through consigners and shoppers. But she also maintained that consignment popularity began peaking even beforehand, due to the "green" mentality.
"I think it's just because people are more aware of recycling – being better to the environment. Why buy something new when you can buy something, perhaps even better, used?" she said. "What a cool way to get rid of things you're not using."
NARTS' Meyers agreed and said, "Part of what makes this industry successful is that we're a primary source for recycling."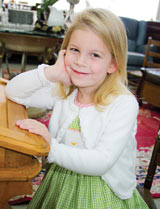 That vision extends beyond clothing. According to NARTS, furniture is one of the fastest growing segments of the resale industry. The Coleman Collection – in Northcutt Plaza at the corner of Houston Northcutt Boulevard and West Coleman Boulevard – is one of a few Mount Pleasant consignment shops that specializes in furniture and home goods. The three owners, who opened the store in March 2011, are all professional interior designers with a combined 75 years of experience.
"It's what they know;  it's what they love," said store manager Stephanie Rhodes.
She noted that The Coleman Collection is extremely particular with the goods it accepts for resale.
"Everything is handpicked, high-end and well-priced," said Rhodes. "Like brand-new items or antiques." She said the designers realize that no matter what the consumer's budget is, everyone likes to save.
"People come and say, 'So glad you're here. We needed a place like you.' Or they say, 'Where I moved from, they didn't have shops like this,'" she related.
According to NARTS, the economic forecast for resale will continue to show clear skies with even more sunshine. Meyers maintains that once you tap into a demographic of consumers, they stay. "We expect it to get stronger and stronger," said Meyers.
DEFINITIONS
Resale Shop
Phrase most often used for stores that buy their merchandise outright from individual owners. However, a consignment or thrift shop also can be called a resale shop.
Thrift Shop
Run by a not-for-profit organization to raise money for charitable causes.
Consignment Shop
Accepts merchandise on a consignment basis, paying the owners a percentage if the items are sold.
Source: NARTS (The Association of Resale Professionals)
Photography by Kayla Jones