November/December 2012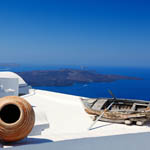 A multitude of traditional Greek dishes are served at Easter, while the Christmas and New Year's holiday cuisine focuses primarily on baking. Christopsomo –Christ's Bread – is a customary bread consumed either on Christmas Eve or during Christmas day lunch. In addition, several forms of traditional Christmas cookies fill the homes of Greek families around South Carolina during the holiday season, the most popular being melomakarona and kourambrethes. On New Year's, another traditional bread, vasilopita – Saint Basil's cake – filled with a coin, is broken and a year of luck goes to the individual who's piece contains the coin. Although baking tends to dominate the holiday season, frikase is a traditional lamb dish many Greek American families enjoy for dinner on Christmas Eve.
CHRISTOPSOMO
4½ cups of all-purpose flour
1 cup of golden raisins
1 cup of walnut pieces
4 whole unshelled walnuts
½ cup of sugar
3 tablespoons mastic liqueur (or ouzo)
1 teaspoon ground cinnamon
½ teaspoon ground cloves
2 teaspoons dry yeast
1½ tablespoons white sesame seeds
1½ tablespoons black sesame seeds
¼ cup Greek extra virgin olive oil
1 teaspoon salt
Finely grated rind/zest of one medium-sized orange
Mix yeast with three tablespoons of flour, one teaspoon of sugar, and ½ cup of
warm water, then set aside for 30 minutes to proof. The entire surface of the
yeast mixture should foam up and rise markedly before it is ready to use.
In a large mixing bowl, sift the remaining flour, add the sugar, salt, ground
cinnamon and ground clove, and then create a hole in the center of the dry
ingredients.
Add yeast to the center hole in the dry ingredients and start kneading to combine
well.
Once the dough starts to form into a crumbly mass, add the mastic liqueur or
ouzo and then slowly add a ½ cup of warm water to the mix, kneading well to
combine thoroughly. Once the water has been absorbed into the dough, slowly
add the olive oil and work the dough until it has been incorporated.
Once the dough mass has taken shape, add the orange rind and knead it well
into the dough, then add the raisins and walnut pieces and continue to knead the
dough until it forms an elastic ball. Note: This dough will be a rather heavy dough
and, although you may use a machine to knead it through the initial stages, it will
need to be finished by hand to ensure a thorough and proper kneading.
Using a sharp knife, cut away a piece about the size of an orange from the
dough, and further divide that piece in half so you are left with one large ball of
dough and two small pieces.
Knead the larger dough mass some more then place it in a round greased baking
pan (I used a 9-inch spring form pan), and use the palm of your hand to shape it
to fit (and evenly fill) the entire bottom of the pan.
Roll out the two small pieces of dough to form two strands of equal length that
will be long enough to form a cross overtop of the surface of the dough in the
pan.
Wet your hands with warm water and place the two dough strands on top of the
bread dough in an intersecting fashion to form a cross, then press them down
into the dough and continue to flatten the loaf evenly with moistened hands.
Using the tines of a fork, follow round the edges of the cross formed by the
now flattened strands and score them slightly to ensure that they bond with the
surface of the bread and do not come away when rising/baking.
Press the four unshelled walnuts into the four ends of the dough strand cross
such that they stand up straight, then sprinkle the entire surface of the loaf with
the white and black sesame seeds.
Cover the pan with a cloth and set it aside in a warm, draft-free spot to rise for
1½ to 2 hours until it has doubled in bulk.
Once the dough has risen, place the pan in an oven pre-heated to 350 F (180
C) and bake for one hour or so, until a deep chestnut color has formed evenly
across its entire surface and the bread is ready.
MELOMAKARONA (HONEY SPICE COOKIES)
Dough
2 cups vegetable oil
½ pound melted sweet cream unsalted butter
1 cup sugar
4 teaspoons of baking soda
4 heaping tablespoons of honey
1 tablespoon of ground cloves
3 tablespoons of water
5 large oranges; juice and zest
8 tangerines; juice and zest
Glaze
A 32 ounce jar of honey
3 tablespoons of water
Finely chopped walnuts
Ground cinnamon
Preheat oven to 350 F.
Melt butter and combine all ingredients into dough.
Form cookies into madeleine shapes and place onto lightly greased cookie
sheet.
Bake approximately 20 to 30 minutes
Remove from oven and cool overnight to make sure they completely dry.
Once this mixture is hot, place melomakarona in and bathe so they absorb the
honey mixture.
Remove and place on wire rack to cool overnight.
Once the cookies are dry:
Heat honey and water in a shallow pan.
Place cookies in this mixture to bathe so that they absorb the honey.
Remove and place on wire rack to cool.
Sprinkle with chopped walnuts and cinnamon