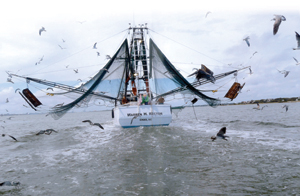 One of the luxuries of living on the coast is that you have access to an abundance of local seafood. We Southerners are passionate about our food, and having fresh ingredients at our fingertips is just one of the advantages of residing in the Lowcountry.
It should come as no surprise that seafood abounds on the menus of most Mount Pleasant restaurants. In many cases, the fare is local because of its superior taste and quality. Some of the distinctive dishes include: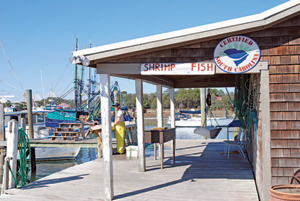 Shrimp and Grits – This Lowcountry staple is perhaps the most popular seafood entrée of them all. Restaurants compete to have their signature dish voted best in the city. The standard shrimp and grits recipe contains shrimp, grits, andouille sausage and tasso gravy. Variations may include bacon, peppers, cheese, hot sauce or sugar, although many locals prefer them served simply with hot butter.
She Crab Soup – Best served on a chilly day, this soup is a cross between a bisque and chowder. Its name comes from its key ingredients: female crabs and their roe. The base is a roux of butter and flour with plenty of heavy cream and milk for a perfect silky consistency, with a small amount of sherry for extra flavor. Vegetables may include onions, carrots or celery.
Crab Cakes – Crab cakes are another traditional Southern staple. The ingredients – crabmeat, bread crumbs, milk, mayonnaise, onions and seasonings – are formed into patties and fried, baked or grilled. Crab cakes are served as a main dish, atop a salad, as an appetizer accompanied by fried green tomatoes or even as a sandwich. They are typically served with a remoulade, tartar sauce, mustard or ketchup.
Frogmore Stew – Named after a South Carolina community, you won't find the meat of web-footed amphibians in this dish. It is a boil of shrimp, crab, sausage, potatoes and corn on the cob. The ingredients are added to seafood stock with seasonings. Because it is rather messy, Frogmore stew often is served over a large, newspaper-covered picnic table. It's usually eaten without utensils; napkins are optional but recommended.
Seafood Pilau – Don't recognize the name? Maybe you know it as perloo, perlow, perlau or pilaf. Regardless of how it is spelled or pronounced, the dish contains dry, fluffy rice with seafood and vegetables as a base.
If you aren't hungry, perhaps a beverage will satiate your seafood craving. An oyster shooter is a shot of vodka with spicy cocktail sauce and a raw oyster at the bottom of the glass.
Another option for getting your hands on fresh seafood is at a local event such as the Lowcountry Oyster Festival, held at the end of January at picturesque Boone Hall Plantation in Mount Pleasant. There are other oyster festivals and fundraisers, shrimp boils and fish fries throughout the year.
If you're in search of fresh seafood to cook at home, look no further than Shem Creek. Several businesses on the creek sell both wholesale and retail, including Geechie Seafood, a family-run operation that has been around since the 1970s.
Bubba Rector and his sons and grandsons strive to provide local residents and restaurants with fresh shrimp, swordfish, tuna, grouper, clams and oysters. Bubba began shrimping when he and his wife, Pam, got married right after high school. He, his brother and cousin-in-law went shrimping on their trawler, "Anna Grace," for a few decades until she sank about three years ago.
Claiming "I have to shrimp," Bubba did not give up. He found a "piece of junk" boat off of Kiawah, fixed it up and named it after his father, Warren H. Rector. During shrimping season, locals watch the family unload their days' catch to sell just a few feet away. Geechie Seafood currently supplies Butcher & Bee, Gilligan's Seafood, Husk, Red's Icehouse, Roper St. Francis Hospital and The Wreck of The Richard and Charlene, among others.
A second option is C.A. Magwood & Sons, another family-run business located on the east side of Shem Creek. Around for more than 40 years, Magwood's offers shrimp, oysters, claims, crabs and fish. During the season, shrimp sell out almost every day; in the winter, they carry frozen local shrimp seven days a week. Local restaurants that purchase seafood from Magwood's include Art's Bar & Grill, Bacco, Finz Bar & Grill and Marina Variety Store.
If you are in the mood for fresh seafood but don't feel like cooking, check out one of Mount Pleasant's restaurants. Ask the hostess or your server where the seafood comes from. To enjoy one of the best parts about living in the Lowcountry, you'll want to eat sustainable fresh or fresh-frozen local seafood.
To find out when local seafood is at its peak of freshness and for a list of local restaurants committed to serving sustainable seafood from local fishermen,
shrimpers and crabbers, visit the Eating Well Department at www.MountPleasantMagazine.com.
Photography By Lance and Pam Rector