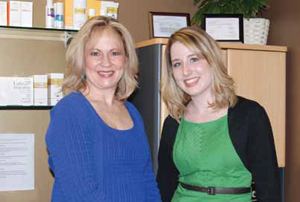 Folks come to the beautiful beaches East of the Cooper with little more on their minds than relaxing in the warm sunshine – and who can blame them? Yet the sunshine comes at a cost, and often it's the health and appearance of your skin that pays the price.
"Here in the South, sun exposure can be more of an issue," explained Taylor Naylor, an aesthetician and skin specialist at the Old Village MediSpa. "We strive to educate our spa clients on the importance of protecting the skin from the sun. It's not just for aging and appearance reasons either – it's crucial to your skin's overall health."
The MediSpa's options for assisting clients with sun damage include an IPL (Intense Pulse Light) Laser, as well as a selection of medical-grade products for the skin.
"The IPL laser can help diminish the appearance of existing sun damage, such as sun spots, fine lines and vascular areas around the face," said Naylor. "If you've already experienced some sun damage, and most people here have, it's reassuring to know that there are methods available. But the best thing, of course, is to prevent sun damage from happening."
Regarding at-home prevention, products with strong UVA protection make it simple to protect your face and body from damaging rays.
"Medical grade sunscreen is the primary item people should include in their skin care regimen," said Naylor. "Sunscreen comes in two different types: physical, which basically means that it 'sits' on your skin, much the way a piece of clothing would, acting as a barrier. Chemical sunscreen goes deeper into your skin, actually protecting the cells beneath the superficial layers. Whatever kind of sunscreen you happen to purchase, make sure that the label says it protects against both UVB and UVA rays."
"What most people don't realize is that the SPF rating on sunscreen isn't as important as the quality of ingredients," she added. "Besides sunscreen, it's also a good idea to use topical vitamin C, which acts as an antioxidant, on the skin under your sunscreen to provide even greater protection."
Dr. Cynthia Blalock, the founder and physician of the Old Village MediSpa, takes each client's skin-care needs seriously.
"I'm trained in emergency medicine, which was my first love, but I wanted to experience a more creative side of the medical field. Skin care allows me to do that," she explained. "I would say that our main focus here is caring for the individuals and engaging in clear communication about the client's total skin health."
"We have a new program we're introducing, a membership for the MediSpa," Naylor explained. "We want to encourage our clients to come back and continue their skin-care program with us at an affordable cost."
Besides laser therapy and medical-grade products for skin care, the MediSpa also offers Botox treatments, chemical peels, microdermabrasion, laser hair removal, skin tightening and other services.
Old Village MediSpa is located at 1405 Ben Sawyer Blvd. in Mount Pleasant. For more information, visit www.oldvillagemedispa.com or call (843) 884-7719.
Photography by Chase Greiser