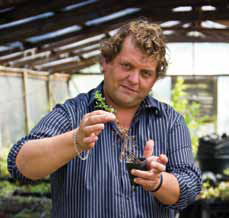 It was a warm wednesday morning when Christian Teague of HLG Growers showed me a place where plants grow in abundance, ready to transform someone's garden space.
"I'm a plant farmer at heart; that's what I do," said Teague. "I like to take a blank piece of ground and be creative with it. I've been infatuated with flowers since I was small. My grandmothers were avid gardeners; I grew up on a farm in the North Carolina mountains, and we always had plants."
Teague's ground-to-design business got its start at his first nursery location in Boone, North Carolina.
"I began doing this in 2002," he said. "I wanted to create a company that is unique and all-inclusive by producing my own plants to work with."
Raw materials for Teague's most elaborate landscaping creations can be found on Johns Island, South Carolina, where he grows a wide variety of shrubs, flowers, trees and other plants specifically for Lowcountry homes.
"There is no one else like me in this state," Teague remarked. "That is, a landscape designer who happens to grow his own stock. Typically, designers get their plant stock from elsewhere. But I grow my own in this nursery. We grow flowers for people we haven't even met yet."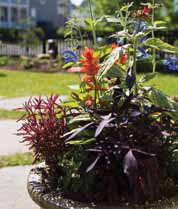 Growing the plants is just a small part of Teague's creative process. His company can essentially create the yard of your most vivid dreams, including rock and concrete finishing, water feature installations and more. One example of Teague's finest work can be found on Daniel Island, where he recently created the entire outdoor appearance of the client's home.
"For this yard I established a theme of earth, water and fire," he said with a smile. "I got an outdoor fireplace that actually grows plants in its cracks. Eventually, all the rock work will be covered in flowers."
Teague prides himself on knowing just how far to push the growth envelope – and which flowers can thrive in the most amazing spots.
"There are special plants, known as succulents, which will grow between the rocks," he explained. "They are green roof technology plants, meaning that people can put them on roofs to deflect the sunlight. In fact, I have a garden that I planted on top of an old 1978 van, and that van has traveled over 2,000 miles with those plants on top."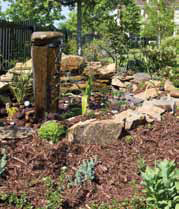 Another feature of the Daniel Island yard is what Teague calls a "pondless water feature," meaning the waterfall and stream aren't cluttered by tree foliage – they're protected with easy-to-clean rocks.
Teague emphasizes the options available in the Lowcountry's fertile soil.
"One of the reasons I migrated here from the mountains is for the longer growth period in a single year, thanks to the weather," he said. "The succulents make great plants down here. They thrive on the humidity and rain. And the opportunity to grow hundreds of varieties of exotic perennials year-round is a unique perk to the Lowcountry."
To learn more, visit www.hlggrowers.com or call Teague at (828) 964-6905.