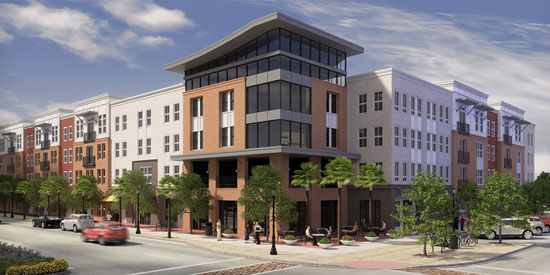 Looking back on his childhood, John C.L. Darby remembers family excursions from his home on the Isle of Palms to the nearest grocery store, Rodenburg's Red & White, located on the south side of Coleman Boulevard in what was then the small town of Mount Pleasant.
On March 20, Darby, the grandson of legendary real estate developer J.C. Long and now the president and chief executive officer of The Beach Company, which his grandfather founded in 1945, stood a few hundred yards from the building that once housed Rodenburg's and helped launch a multi-million-dollar project that will change the face of Mount Pleasant's main thoroughfare.
The Boulevard, made up of 325 apartments, 12,000 square feet of commercial space and a threestory parking garage, is scheduled for completion in the summer of 2013. Located across the street from Brookgreen Town Center, another Beach Company project, it's the first major step in establishing a pedestrian- friendly main street for Mount Pleasant along Coleman Boulevard, a vision born in 2006 and solidified by a 10-year plan adopted by the town in 2011.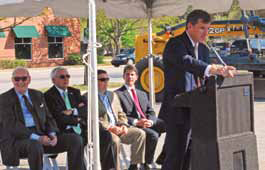 According to Darby, The Beach Company, which has owned the land for more than half a century, was unable to put the project in motion until a long-term lease with Family Dollar, the final occupant of the building that once stood on the property, expired.
"The rent was significantly below the market rate," he explained. "They had the space locked up, and we couldn't get them to move."
"We had the opportunity to do a lot of different things," he added. "We had a deal with The Fresh Market, but the Publix opened on Highway 17 and they got cold feet. It became obvious to us that we were going to have to wait Family Dollar out."
Beach Company Vice President Daniel J. Doyle pointed out that the design of The Boulevard will be based on successful examples elsewhere, such as Santana Row in San Jose, Baldwin Park in Orlando and Market Common in Myrtle Beach. Darby added that the Beach Company has studied what has worked in cities including Chicago, Dallas, Atlanta and Charlotte. The architect for the project is JHP Architecture/ Urban Design of Dallas, a firm known nationally for designing infill projects – those built on land already in use rather than on property being developed for the first time.
The Boulevard's apartments will range from studios of just over 500 square feet up to three-bedroom flats at 1,470 square feet. They are smaller by design, because "people don't want or need large spaces," according to Doyle, and they also will be built to accommodate modern conveniences such as flat-screen TVs and smaller appliances.
And, just because The Boulevard will rise in the middle of Mount Pleasant's main street doesn't mean its builders won't do their best to co-exist with Mother Nature. Several large trees on the property will remain, including a 46-inch live oak that will be the centerpiece of an interior courtyard. The garage will feature a charging station for electric cars, and stormwater management will be a priority.
"When you are dealing with an infill project, you have to be as creative as possible," Doyle commented. "Some things will look like they are decorative, but instead they will be intended to help solve a problem." Doyle is not concerned about renting The Boulevard's 325 units.
"I can say with a strong level of confidence that there will be a market for these apartments," he remarked.
"It's not necessarily the apartments but the lifestyle and level of convenience because of their location. It will be close to the beach and downtown Charleston, and residents will be able to walk to dinner across the street or to the stores and restaurants at the Boulevard." "It will be a place to live, but it also will be a destination for people who don't live there," he added.