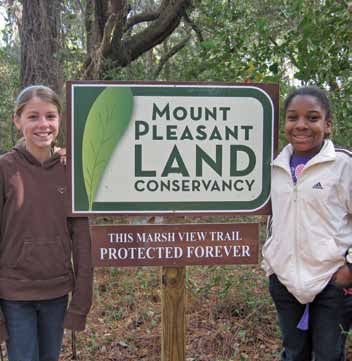 The flora and fauna of the Mount Pleasant area will flourish now and in the future because of the work John Girault is doing today.
Girault is the executive director and only paid employee of the Mount Pleasant Land Conservancy, a volunteer- driven organization whose mission is "to enhance the quality of life for all East Cooper residents through education and preservation of open space by promoting protection, acquisition and stewardship of our land resources."
The executive director, who has held the job since 2008, said the MPLC focuses on urban areas of Charleston County, "preserving the small nooks and crannies," while leaving larger projects for organizations such as the Lowcountry Open Land Trust.
"We work to preserve small parcels that aren't necessarily on anyone else's radar," Girault explained. "We'll look at a single tree."
That doesn't mean that the Land Conservancy won't get involved with properties that have lots of trees. At Oakland Plantation, on the north side of Mount Pleasant, the Gregorie family granted the MPLC a conservation easement on 132 acres, restricting future use of the land even if it is sold. Such an arrangement works out well for the landowner, who gets a tax deduction, and for the people of Mount Pleasant, who can enjoy the land in its natural state – forever. Girault pointed out that the Oakland property is not open to the general public, "serving as a kind of amenity" for the people who use the nearby KOA campground. Local school groups visit, and the MPLC holds one of its fundraisers there, a 5k run and oyster roast.
Once the MPLC receives a conservation easement from a property owner, Girault monitors the use of the land, making sure the terms of the agreement aren't breached.
"If it's a planned urban development, there's no guarantee that in 20 years they won't come back and say they really need the land for a shopping center," he said. "If there is a conservation easement through a land trust like the MPLC, we're going to fight for it."
According to Girault, the MPLC is made up of members of the community who strive to preserve the natural character of Mount Pleasant. Among those concerned citizens is Bill Miller, who retired as director of planning for Charleston County in 2000 and now serves as chair of the MPLC board of directors.
"I'm involved because I'm trying to give back to the Mount Pleasant community through what I've learned during my 31 years in public service," Miller commented. "People who are interested in preserving open space, views and scenery in Mount Pleasant should support the organization."
The MPLC reaches beyond the town's limits, to the rest of East Cooper and even to the other side of Charleston. The organization has procured money for three projects under the Greenbelt Small Landowner Program. Through the MPLC's efforts, a 3.7-acre lot in West Ashley that once served as an elementary school will be converted into an urban horticultural center by the Charleston Parks Conservancy; 3.84 acres in the Phillips Community in Mount Pleasant will become a community center, nature trail and cultural heritage interpretive park; and four acres off Hamlin Road in Mount Pleasant will feature a nature trail and a celebration of African- American history and culture.
The MPLC recently reached an agreement to permanently protect from development two pieces of land on Sullivan's Island. A 3.09-acre open field at the end of Station 19 features access to a tidal creek that connects with the Intracoastal Waterway, while a .48-acre plot south of Station 9, a wooded lot, was once the landing area for the original Pitt Street Bridge.
"The town has partnered with the MPLC to spare these properties from development while preserving their aesthetic, educational, ecological and environmental value for public use and enjoyment," Girault commented.
The education aspect of the MPLC is evident behind the town's Waterworks building, where Girault's office is located. The MPLC will be placing interpretive markers throughout the 57-acre city-owned tract, which includes a dog park and a hiking trail and is home to an array of animals and birds. Visitors can catch of glimpse of ospreys, eagles and painted buntings, and the MPLC partnered with nearby Whitesides Elementary School to establish a butterfly garden.
"We are a local land trust, and we're community driven," Girault commented. "We want to be guided by what the community wants us to preserve."
The MPLC's roots were planted firmly in Mount Pleasant's fertile soil in 2000, when a committee of councilmen and local citizens was tasked with looking at ways to preserve the town's green space. Mount Pleasant first allocated funds for the Mount Pleasant Open Space Foundation in 2002, and the organization gained non-profit status under its current name in 2004. Today, the MPLC is a free-standing entity; the town, which once controlled its budget, board and bylaws, granted the organization its independence in 2009.
With independence came the responsibility to be self-sufficient; today, the MPLC survives through donations and fundraising events. In addition to February's Race & Roast at Oakland Plantation, the MPLC hosts a Paddle 'N Party on Shem Creek in the fall, featuring barbecue, beer, a silent auction, kayaking and a sanctioned stand-up paddleboard race from Shem Creek into Charleston Harbor and back.
Though it is Girault's job to preserve green spaces in and around Mount Pleasant for future generations, he realizes that some land must be used to build homes, schools, roads and shopping centers.
"We're not going to save every green space. There has to be a balance. We're not out to stop all development," he remarked. "We work with developers."
"It's about quality of life for humans as well as for the habitat," he added.
"We're preserving green spaces for future generations. What we do isn't for us; it's for our grandkids. I'll be long gone, but these green spaces will be here forever."
Photography by Beth McCall