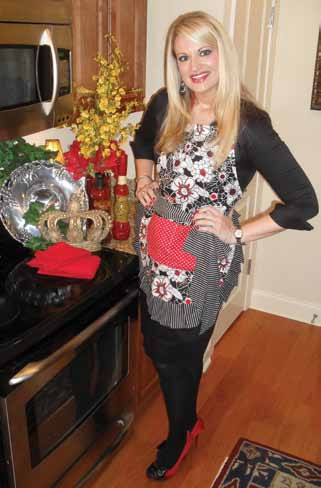 Amanda Vaughn Haggerty is at home in the kitchen. Whether she's putting together brunch for friends or a quiet dinner for her husband, she easily whisks from sink to stove. Yet she realizes that while she loves being in the kitchen, not everyone finds making dinner to be such a delightful task.
So Haggerty has set out to make cooking easy, accessible and delicious for all, and she's doing it through her website, CasseroleQueen.com.
"If I can make someone's life easier so they can spend more time with their family, I am all about doing that," said the Louisiana native.
It all started last fall when Haggerty had a group of girlfriends over for brunch at her Daniel Island apartment. They all wanted her recipes, but Haggerty cooked with the "pinch of this and dash of that" method, so she didn't have formal recipes to share with her friends.
Their request did prompt her to start measuring the ingredients and writing down her recipes. Later she decided to share her culinary creations beyond her circle of friends and launched CasseroleQueen.com.
Haggerty spends Sundays cooking for the week. She usually makes a casserole so she and husband Cameron – official taste tester and dishwasher – have leftovers for the week.
Once Haggerty has perfected a recipe, she snaps photos of the cooking process with her iPhone and writes out the recipe, along with a story about the dish for the website. It might be a piece of family history or the tale of how she came up with the idea to make a bacon French toast casserole for her husband's birthday.
Haggerty promotes her site through Facebook, Twitter and LinkedIn, and family and friends pass it around. City Social, a magazine in Baton Rouge, Louisiana, even did an article on Haggerty. Though the website is a hobby for now, Haggerty dreams of turning it into a career.
"I love sharing and entertaining," she said.
She imagines opening a storefront where people can buy ready-made meals and wants to write a cookbook so she can continue to share her recipes.
People often are intimidated by cooking, especially recipes that have multiple ingredients and several steps, so Haggerty purposely keeps her recipes simple. An avid grocery shopper, she outlines exactly what to buy – a can of this or a bag of that. She incorporates vegetables in many of her dishes – often sneaking them in, which is perfect for kids and picky adults.
She uses the Food Network for inspiration, looking at what those chefs do, simplifying it and making it her own.
"I make it more affordable or less time-consuming," she said.
Her overall style is Southern, incorporating the tips and tricks learned from her mother and grandmother. Even the idea of cooking ahead for the week is somewhat hereditary. Growing up in a single-parent household, Haggerty would help her mom get ready for the week on Sundays.
"If you don't have to cook during the week, it's easier and more affordable," she said.
Her grandmother taught her to experiment with flavors, so Haggerty will take a combination such as sundried tomatoes and artichokes and craft a recipe around it. Sometimes she just uses what's in the pantry, or she might take a main course and repurpose the concept as a dip. "I want the message to be that you can look at a recipe and make it your own. Don't be afraid to cook," she said. "I want people to experiment. If you fail, try something different the next time."
Haggerty is delighted when people post questions about her recipes or ask about how to swap out one ingredient for another. It fulfills the purpose of her site – to help others.
Recently a reader posted a comment that she had tried a recipe for her family and there was nothing left after the meal.
"I burst into tears. It was the best feeling ever," Haggerty said. "I have to figure out a way to do this all the time."
Photos courtesy of Amanda Vaughn Haggerty