Helping You Stay Home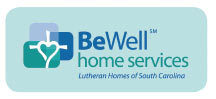 Do you or someone you love need a little help at home? If so, BeWell Home Services can be of assistance. BeWell gives you peace of mind knowing that its caring staff will be there to take care of your home-care needs. Whether you are a senior, the child of a senior or a working mother, BeWell can help.
BeWell Home Services has established a tradition of serving seniors in the Lowcountry for more than 100 years. As a division of Lutheran Homes of South Carolina, BeWell proudly provides home-care services to residents of Charleston, Berkeley and Dorchester counties and the surrounding areas. The company has offices in Mount Pleasant as well as Aiken, Columbia, Greenville and Spartanburg.
Call BeWell today to set up a free assessment. A registered nurse will meet with you and your family and establish an individualized plan of care that might include bathing, dressing, shopping, errands, cooking, cleaning, medication reminders and whatever you need to make you comfortable and secure in your home.
After the plan of care has been established, a trained and insured caregiver will implement the plan. BeWell will provide care from two hours to 24 hours a day in your home, all supervised by a registered nurse.
The staff at BeWell looks forward to helping you be well in your own home. For more information, visit www.BeWellHomeServices.org.
Marketing Content