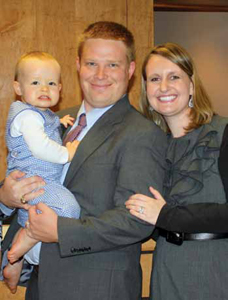 Chris o'neal is passionate about the Lowcountry. After forging a personal path through South Carolina, he happily returned to call Mount Pleasant home – and Mount Pleasant calls him one of its newest town councilmen.
The 31-year-old was born in Charleston, moved to Columbia and returned to the region after earning bachelor's degrees in economics and speech and communication at Clemson University. A certified public accountant and small business owner with Moody CPAs & Advisors in Mount Pleasant, he also received a master's in accountancy at the College of Charleston.
In November 2011, O'Neal was elected to his first term on the Mount Pleasant Town Council. He chairs the Economic Development Committee, serves on the Finance, Recreation and Water Supply committees and is the Council representative to CARTA. He warns not to toss him into a pile with other politicos.
"I'm not a politician," O'Neal said. "That's probably not a good label for me."
O'Neal had never run for office before his successful effort to gain a seat on the Council. He described the race as "challenging," with nine candidates vying for four seats. He also described the campaign process as positive.
"It was an interesting experience. I really enjoyed it. For me it was really getting out and meeting a lot of people," he explained.
To those people, O'Neal said he hopes to bring "a different way of looking at things."
"I think it's new ideas – a fresher perspective," said O'Neal, who lives in Mount Pleasant with his wife, Tifany, and son, Simms. "I've not been part of the town establishment, not that they've done a bad job. I bring a different perspective – a business perspective."
O'Neal said he ran for the Council seat because he believed his financial background would be an asset to the town. He wants to focus on making Mount Pleasant more business-friendly.
According to O'Neal, business growth means revenue for the town in the form of license fees and taxes. And small business owners might then buy homes in Mount Pleasant and spend money at other town businesses.
"A lot of people in Mount Pleasant would like to see their children have opportunities to come back and live and work in Mount Pleasant," he said. "It's a wonderful community, but it's not always easy to find a well-paying job in Mount Pleasant for new graduates. We need to find opportunities for those folks."
O'Neal cites friendly neighborhoods, safety and recreation as reasons he calls Mount Pleasant his home.
"It's just a great place to live. Everybody is so nice. The schools are great. It's convenient to beaches and parks," he beamed. "I think we want to continue the quality of life we have here."