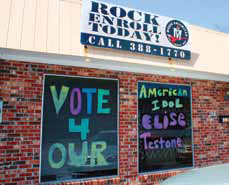 Think back to when you were a child. What was your dream, down deep inside, longing to burst forth to consume your heart and soul? For Mount Pleasant's Elise Testone, it was simple: to sing. That dream has blossomed, perhaps, in a way even grander than she ever imagined.
Last July, Testone, 28, auditioned for Fox's American Idol in Savannah, singing Janis Joplin's "Get It While You Can." She received her gold ticket, and, by spring, she had advanced again and again – landing in the coveted Top 13. Testone who lived, performed and taught in Mount Pleasant, had become a star.
"The first thing I did when I found out I was an Idol finalist was kind of look around and try to really wrap my brain around what was happening," Testone told American Idol producers.
After her performance of Al Green's "Let's Stay Together," judge Steven Tyler told Testone, "You got beauty in your soul."
When she finished her vocal and piano performance of Adele's "One and Only," Jennifer Lopez said Testone was, "so special and so different from everybody else in the competition."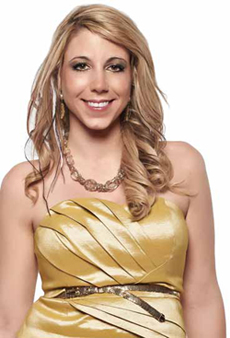 Randy Jackson called her "a force to be reckoned with." Testone grew up in New Jersey, where she recalled singing her first solo in elementary school – a song about barnyard animals. She studied music and vocal performance at Coastal Carolina University, then landed in the Lowcountry.
Up until her departure for Hollywood, Testone called Mount Pleasant home. In one American Idol video, she noted that she would sometimes perform locally up to 10 times a week.
"I think what makes me unique is that I live and breathe music," Testone told producers.
Before departing for the West Coast, Testone taught vocal performance for four years at Mount Pleasant's Music Unlimited. Owner Chris Holly said she was a hit with her students and showcased "a total love of music."
"Amazing and fantastic," Holly said of Testone's teaching abilities. "Very laid back, but very, very serious about music."
In March, Music Unlimited drum instructor Daniel Krider flew to Los Angeles to watch Testone perform. Two of Testone's students, MacKenzie O'Brien and Mary Williams, also visited her.
"I couldn't stop crying! I can't help but cry watching the show at home every week, and sitting front row watching her sing live was no different," O'Brien told Mount Pleasant Magazine. "I've seen her perform so many times, but this was really, really special."
Testone surprised the girls by calling them up onto the stage.
"I was in a daze. I had no clue she was going to call Mary and I up there," O'Brien said. "All I could think about was how proud of her I was and how happy I was to be there with her that night."
"Oh, it was so cool. I didn't think I would be going on stage. That was crazy," said Williams. "She is so inspiring."
"I've had a few voice teachers, but no one ever took a personal interest in me like Elise," O'Brien added. "She's like an older sister to me. My favorite thing was when she would tell me I sang a certain note or line and she couldn't get it out of her head all week."
Holly held a number of Idol watch parties – both in Mount Pleasant and at the Windjammer on the Isle of Palms. He considers himself an ex-employer now – fully expecting Testone to go on to bigger things.
"It's tough to see her go," Holly reflected. "She's a hard one to replace. There's an expectation level now. I told her I hope she never has to come back – just to sign autographs."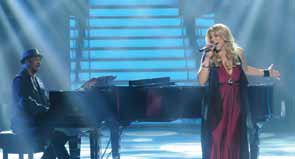 Armed with guitar and voice, Testone was a frequent performer at Juanita Greenberg's Nacho Royale in Mount Pleasant. She also was a regular at Awendaw Green. Owner Eddie White described her style as "raw, real and rootsy."
"Elise is a super talented performer who exudes honesty and passion with every breath," White said of Testone, who sang last November at the Awendaw Green Homegrown Music Festival at Patriots Point in Mount Pleasant.
"She pours her heart out with every performance and leaves you wanting more. Her ability to connect with the listener is her real strength," said White. "Everyone always remembered Elise and now all of America will."
The American Idol competition is tough – a battle of true talent. Whether Testone makes it to the top spot depends on fan votes. But without a doubt, her fans back home already have voted her No. 1.
"Elise has the power to positively impact many lives and will do so in a manner that utilizes her God-given talent and personal grace," White said. "It is going to be fun to watch."
Photos of Elise Testone provided by Fox