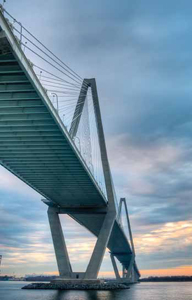 On warm, sunny beach days, you love it. On bitter, rainedout game days, you hate it. Hot, cold, wet, dry, sticky, chilly or windy – the weather unites us all. Regardless of any complaints you might hear about weather in the Lowcountry, its mild climate is a major drawing card. According to the South Carolina State Climatology Office, the region experiences measurable snowfall, on average, just once every three years. The area's first white Christmas on record was in December 1989, when more than six inches of snow fell just months after Hurricane Hugo devastated the Carolina coast.
At the other end of the spectrum, the dog days of summer sometimes have Charleston County residents panting for relief from temperatures as high as 105. South Carolina is not known for its tornadoes, but only 18 other states have suffered more damage from twisters, according to state climate reports. In 1938, according to the National Weather Service, Mother Nature unleashed her wrath in the Lowcountry, pummeling the region with five tornados that killed 32 people. Droughts can be a weather issue as well. A damaging dry spell from 1998 to 2002 meant trouble for agriculture and tourism as well as for water supplies and fisheries. Most recently, from September 2007 through January 2008, Charleston County's drought status was considered to be "severe." At the other extreme, tropical weather is a constant concern along the coast. Hurricane Hugo, which arrived with great fanfare in September 1989, remains a vivid and painful memory for many Lowcountry residents. The category 4 storm came ashore near the Isle of Palms and Sullivan's Island with sustained winds sustained of 138 mph, gusting to 160 mph. Across the state, 26 people died and 50,000 to 70,000 lost their homes.
Though there's nothing we can do about violent weather, other than find a safe place to ride out the storm, it's comforting to be able to trust a familiar face to bring you the details, calm your frazzled nerves and promise that the sun is going to shine again sometime soon. The chief meteorologists at Charleston's local TV stations have a passion for doing just that.
TOM CRAWFORD, WCIV-TV (ABC)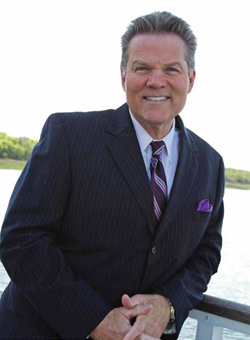 Before each of Tom Crawford's evening weathercasts on WCIV, a viewer asks, "Hey Tom, how's the weather?" That is a question that, as a young man, Crawford did not imagine he would be answering. He is the Lowcountry's "accidental" meteorologist.
Born in San Diego, Crawford's father was in the Navy, and he spent part of his childhood in Hawaii. He has lived in the Lowcountry since 1975. In the late 1980s, before the start of his career at WCIV, Crawford was serving in the Air Force Reserves as an aerial port specialist. Noticing that WCSC needed a weekend forecaster, he called chief forecaster Charlie Hall and was granted an audition. He began his new career the next weekend.
"I knew nothing about the weather," Crawford admitted. "I knew that if I was shaking, I was too cold. If I was sweating, I was too hot."
He learned, and, in January 1991, Meteorologist Bill Walsh – then at WCIV– invited Crawford to make the move to the ABC affiliate. Crawford, still a reservist, was activated for Operation Desert Storm, but he later joined WCIV as the forecaster on the station's new morning show, working part-time there and part-time at the Charleston Naval Shipyard.
Crawford's passion for the weather grew, and he eventually became a certified meteorologist through a program at Mississippi State University.
"It's a very important job, but it's also a fun job," said Crawford. "You get to inform people of what their day could be like. I love forecasting on a day-to-day basis."
As for career highlights, Crawford recalled the snowfall during the 2010 Southeastern Wildlife Exposition, a narrow miss by Hurricane Floyd in September 1999, tornadoes near Sangaree and Strawberry, and the post- Hugo snowfall on Christmas Day in 1989.
Crawford was not forecasting weather during Hurricane Hugo but experienced it as a Lowcountry resident. Now he considers hurricane forecasting a crucial part of his job, and he tries to balance his viewers' need for information with their equally important need for reassurance.
"It's our job not only to inform but to walk the people through it step by step. We do not alarm. We do not hype," Crawford noted. "The main thing I like to tell people right before the hurricane season is make sure you have your important paperwork."
This includes your property insurance, homeowners insurance and other valuable documents. He said you should take inventory and photos of your belongings and property, email documentation to yourself and send copies to a family member out of the storm's path.
Before he launched his weather career, Crawford appeared in approximately 250 TV commercials. He is a licensed auctioneer in South Carolina and North Carolina. Retired from military service after 33 years, he has four children – two boys in Chicago, a daughter in Wilmington, North Carolina, and a daughter in the Lowcountry. He also enjoys being a grandpa to four little ones.
"I don't plan to ever stop working," he said. "You get to meet a lot of wonderful people. And you get to work with a lot of great people."
ROB FOWLER, WCBD (NBC)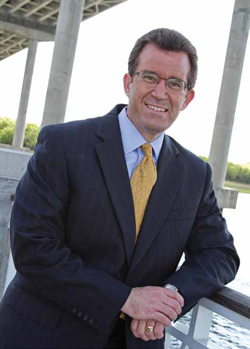 Rob Fowler, now without his mustache, has been a weather fixture in the Lowcountry since 1987. His passion for weather has been incubating since his childhood in New Orleans. In 1965, 5-year-old Fowler felt the wrath of Hurricane Betsy. Trees blew against his home as he watched what he described as "tremendous" floodwaters rising.
"We evacuated to my grandparents' house across town. I had to jam dry towels under the door to keep the water away," Fowler recalled. "At the time I thought, 'I want to learn more about this.'"
He was bit by the broadcasting bug as a young adult. Fowler earned an undergraduate communication arts degree from Georgia Southern University, then a master's in broadcast meteorology from Mississippi State University. After TV positions in Savannah and Green Bay, Fowler moved to the Charleston area. He maintained that mid-August through mid-September can be a tricky time for predicting weather in the Lowcountry.
"There have been so many close calls," Fowler noted. "There are always two or three days where we're on pins and needles wondering if it's going to turn."
For Fowler, that was the scenario in 1989, in the days before Hugo made landfall. He explained that computer models were not as accurate as they are today; he had to physically plot latitude and longitude. It wasn't long before he realized Charleston was in grave danger.
"You're like, 'No this is not happening,'" Fowler recalled with a laugh.
Up until just a few hours before landfall, models still forecasted that Hugo would turn toward Myrtle Beach. Instead, it left the Atlantic Ocean and roared ashore near Mount Pleasant.
"I've never been through anything like that before professionally, and I hope to never go through that again," Fowler said in a serious tone.
He recalled broadcasting from National Weather Service headquarters during the night of Hugo. Windows bowed and part of the building gave way. Winds grew too strong for the live truck masts. Staff members at WCBD's tower in Awendaw wound up at Hugo's "ground zero." Part of WCBD's roof ripped off, and satellite dishes were crushed by the howling winds.
Still, WCBD remained on the air, offering viewers crucial information.
"We got a lot of letters from people who evacuated from Charleston but could watch from Beaufort or Walterboro," Fowler said.
His coverage of the devastating hurricane earned him Broadcaster of the Year honors from the National Weather Association.
Fowler takes his public role in stride, and he tries his best not to take criticism personally.
"You can't let everything get you down," Fowler said. "The weather is something we're never going to pin down. It's not an exact science."
He recalled a time when his little girl helped put things into perspective. Fowler had predicted a rainy day that turned out sunny. A man approached Fowler and 5-yearold Kylie at a mall, angry that he was shopping with his wife instead of tinkering in his garden.
"Sir, God makes the weather," Fowler recalled Kylie saying. "My daddy just tells people about it."
Kylie is now in her 20s. Fowler and his wife of 25 years, Cara, also have two sons, Trey and Tate.
"I couldn't imagine doing anything else or doing it anywhere else," said Fowler. "The best thing about my job is that it changes every day, unless it's July, when it's hot, hazy and humid every afternoon."
BILL WALSH, WCSC (CBS)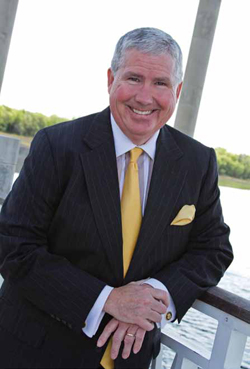 Bill Walsh, of WCSC, has been forecasting Lowcountry weather the longest of the three local chief meteorologists. After weather positions at a New England cable station and in Providence, Rhode Island, Walsh arrived in Mount Pleasant in 1986, forecasting for WCIV. He moved to WCSC in 1993. Like Fowler, his interest in weather began as a child.
"I used to watch the local weather people up in Rhode Island," Walsh remembered.
He also enjoyed aviation and TV production, so he earned his pilot's license, began learning more about weather and wrapped it all up into a career.
"I took two things I really like a lot, television and weather, and put them together. It was a perfect match," he said.
Walsh majored in mass communication and meteorology at Emerson College and Lyndon State College. He earned a master's in military art and science/national security studies from the U.S. Air Force Air University.
Walsh has had many significant weather experiences in the Lowcountry, but one stands out as the most memorable.
"I think the biggest thing, of course, was Hurricane Hugo," Walsh noted. "For the weatherman, it was like the Super Bowl. I was on channel 4 at the time, and we had to evacuate the station and stay on the air at the same time – as they were bringing boxes out the back door."
Six feet of water rose in the building, according to Walsh. He was forced out of his own home for three months.
"It was a very challenging time. It was exciting, but it was challenging," he recalled. "It was the first major hurricane I had worked."
Ten years later, Walsh was on the air as Hurricane Floyd threatened the Carolina coast.
"They called it the Floyd Fiasco because it took so long [to evacuate.] It took 15 hours to drive to Columbia," he said. "While everybody was leaving, we broadcasters had to stay behind as the storm was coming," he said.
Floyd caused minimal damage in South Carolina. However, each hurricane that threatens the coast has the potential to be a killer; each storm is unique and requires steady focus from the Lowcountry's weathermen.
"You have to look at every hurricane as a brand-new storm," Walsh explained. "There are similarities in tracks and forecasting, but, for the most part, they are all different. Storms can take various paths and the challenge is forecasting the tracks while forecasting the intensity."
A former naval officer, Walsh served on two aircraft carriers. He currently is a Lt. Col. and chief of public affairs for the 315th Airlift Wing at Joint Base Charleston. He enjoys life with his wife, Janet, and two children, Frank, 16, and Amy, 13.
"A lot of people know who we are. I think it's an absolute great part of my job to be able to serve people and also talk to people," Walsh said.
Photo Credit: Photos by Kayla Jones