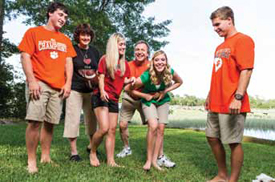 While visiting mount pleasant last November looking for a place to live, I noticed the abundance of Clemson and University of South Carolina flags adorning the front porch of many Lowcountry homes. At the time, I joked with a friend that eventually I probably would need to declare my allegiance to one school or the other.
When I moved to Mount Pleasant, I quickly realized that college football is no joking matter to South Carolinians. Like beaches and waves, hush puppies and honey butter, orange and purple, and garnet and black, college football here is a way of life.
Brewing beneath the bucolic setting of the Palmetto State is a rivalry that has been around since South Carolina posted a 12-6 victory in the first meeting between the schools on Nov. 12, 1896 – and proceeded to lose 65 of the next 108 meetings, with four ties thrown in for good measure. Every season, football enthusiasts gear up for a showdown between the two fierce rivals. Separated by just 132 miles, the Clemson Tigers and the University of South Carolina Gamecocks battle for bragging rights that last only until they battle again.
Inside flag-waving homes from Mount Pleasant to Pickens are families that are steadfastly loyal to the Gamecocks or the Tigers. However, disturbingly for some college football fans, there are some houses where orange and purple and garnet and black share dominance.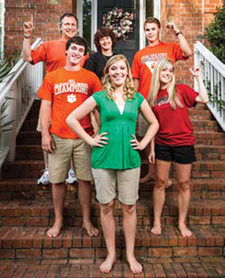 Pete and Patty Spitz of Mount Pleasant know a thing or two or three about a house divided. They have triplets; Michael is a Clemson graduate; Phillip will soon be a Clemson graduate also, and Kristyn is a USC graduate. In addition, they have a 16-year-old daughter, Ashlyn, who has yet to declare her preference for one or the other.
Despite their differences, the Spitz family coexits, peacefully; for the most part, they are respectful of each other's teams.
"We try to keep it in perspective," Patty said.
At the opposite end of the spectrum is the Craft family, owners of Whitney's Collection and Man Cave of the Lowcountry in Patriots Point Plaza in Mount Pleasant. Man Cave, a haven for college football fans and all things manly, is run by father and son Dan and Rob. Off the field, so to speak, they are deeply divided. Dan is a die-hard Gamecock fan, while son Rob bleeds orange and purple.
"We don't talk much during the football season," Rob admitted. "In fact, he says he doesn't even like me during the season and claims I'm obnoxious and the worst fan to go to a football game with."
The family rivalry dates back to when Rob was 5, and his uncle and cousins introduced him to all things Clemson. If there was any hope for Dan bringing his son back to the other side, it ended when Rob attended his first Clemson game at the age of 9.
"I still remember vividly the very first Clemson game I went to. The only thing that ever surpassed it was the birth of my son," he said.
While some homes can be characterized as houses divided, it might be more accurate to define others as houses conflicted. Adele Simmons and her son, Banks, are steadfast Gamecock fans, but Banks is actually considering attending Clemson.
"It all comes down to the school," Adele said. "Banks' major is something that's very limited and Clemson is a good school for it."
"I'll support Clemson if they're not playing the Gamecocks," Adele admitted. "My son, on the other hand, may have a hard time doing that even if he is going to school there. He may not completely cross over, but he may have a toe over the line for four years."
Reasons people choose one school over the other range from personal to practical to everything in between.
"It's just a different atmosphere. Clemson is beautiful. To me, there is nothing like a night game at Clemson," Rob Craft explained while wistfully gazing at a picture of the school's Memorial Stadium.
"It depends, too, if you like being the underdog or if you want to be a winner," he added, making no discernible effort to resist a jab at USC. "If that's the case, then, historically you would go with Clemson."
Whatever the reason people choose to support one team over the other, it's clear that it's all about heart, soul, loyalty and pride.
I look forward to witnessing the excitement for myself when the Gamecocks and Tigers face off on Nov. 24 at Memorial Stadium, known affectionately to Clemson fans as "Death Valley." Maybe I will have declared my allegiance by then, but, for now, I remain a spectator waiting to be converted.
Photography by Adam Chandler