There's no doubt Mount Pleasant is a pet-friendly town. Just look around on any beautiful day – or even a rainy day – and you'll see residents walking their dogs and brushing their cats.
Dr. Cara Daniel, of the newly opened Tidewater Veterinary, understands that pets are part of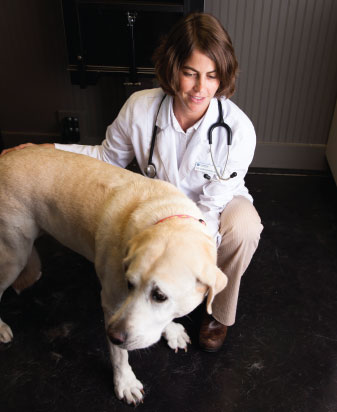 the family and deserve the best care possible. After a stint working with other veterinarians, she's opened her own business, devoted largely to preventive medicine.
"I've learned to focus on prevention and not just a crisis," she said. "Nutrition, exercise, blood work … all of those are factors that help dogs and cats live long, healthy lives."
A young pup or kitten has the longest visit with Dr. Daniel, where she carefully evaluates the total health of the pet. "From nose to toes" is the mantra, since each pet gets both a physical and emotional examination.
"I see how the pup or kitten interacts with its owner; I check its weight, teeth, overall health. I talk about nutrition, exercise, plans for crate training. I also teach owners how to play with ears and paws so it's easier to trim nails and clean ears later. We also deworm the pets, check for parasites, give vaccines and discuss flea prevention. It's comprehensive."
Dr. Daniel sends new parents home with a kit to help educate them and to share what options are available for the kitten or puppy. Nutrition, for example, has recently become a topic worth careful consideration.
"People are realizing more and more how important nutrition is," said Dr.Daniel. "Like people, animals are what they eat. It affects skin, energy and all sorts of functions. You don't want byproducts and preservatives in the food as a rule, but each animal does well with different products. I try to help owners establish a nutrition regime based on income and the needs of the pet."
"What about people who want to cook for the pet? Is that an option?" I asked.
"We can also recommend diets for owners who want to cook for the pets in order to add variety and extra nutritional value," Dr. Daniel confirmed. "Some people enjoy that route."
Besides covering the basics, Tidewater is leading the (dog) pack when it comes to alternative medicine for pets. Acupuncture and laser therapy are two of the methods available to help pets overcome obstacles without invasive surgery or medication. Both are available in the clinic.
"Acupuncture can provide relief for arthritic pets who don't handle medicine well," explained Dr. Daniel. "Besides pain, acupuncture can relieve anxiety and phobias. Laser therapy is also non-invasive and aids in natural healing for cats and dogs. The pet just stands still; it's a simple procedure."
Dr. Daniel's compassion for cats and dogs comes from her personal experience – she has a Labrador at home – as well as from her belief that pets, too, deserve a life of wellness.
"We want to make tough situations better, should they arise," she said. "But we also want to prevent them from happening."
For more information, visit www.tidewaterveterinary.com or call (843) 856-7300.