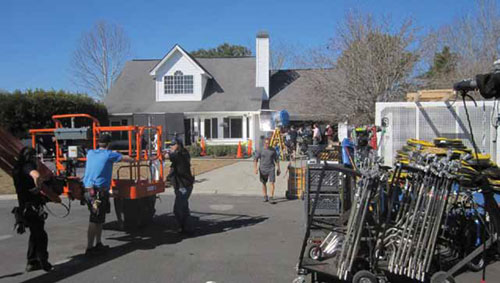 The army wives were stationed in Landings Run, a Mount Pleasant neighborhood, this past January. Now in its sixth season, "Army Wives" is filmed in the Charleston area, and, while many scenes are shot on a soundstage downtown, they often go on location to lend authenticity to the drama. Over the last five seasons, Charleston and its environs have been featured as a backdrop for the friendships and struggles of military life.
Word spread in December 2011 as the production staff prepared to shoot season six partially on location. The Locations Department, headed by Stephen Yetman, is responsible for procuring and managing the needs for filming each episode. Bob Basha, a local photographer who works with the "Army Wives" crew, is charged with finding potential properties. He is given the criteria for potential houses and scouts a dozen or more possibilities, taking pictures of exteriors and interiors. Ultimately, the producers narrow the choices down to two or three before making a final decision.
In mid-December, Basha was searching for a home in a middle-class neighborhood and contacted me to see if I was interested. He thought my neighborhood, Landings Run, might fit the bill. He was looking for a house that seemed affordable for a military family; the requirements included "a garage with a windowed door, two stories and vaulted ceilings," plus enough space for the cast and crew.
Basha took several photos of my house and asked if there were any other homes in the area that might be suitable. We looked at a few nearby houses before making a quick stop on Canton Square at the home of Carol Collins. We then considered Hilary Rieck's home, despite Basha saying it would be an "unlikely choice because the primary color was white and the house faced south."
Rieck arrived home to find we had blocked her driveway, but when we explained why we were there, she was more than willing to have her house included as a prospect. And though it was initially "an unlikely choice," the Rieck house ended up being chosen.
"I was so excited," Rieck said. "I watch the show regularly. I love the drama."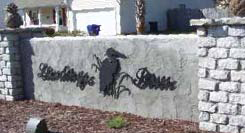 The "Army Wives" crew notified nearby residents of the preparation and shooting schedule and made every effort to impact the neighborhood as little as possible. A base camp for large trucks and other vehicles was established at Seacoast Church on Long Point Road. Quite a few vehicles were parked on Canton Square and Landings Run, adding to the general excitement.
Robert Basha, location assistant, explained that several scenes for two episodes would be filmed during the three-day shoot. His job is to manage the logistics of preparing the set, down to the most minor details. While he could not disclose specifics of the plot or cast involved, he said it was essential to the story line to have the house's garage door replaced.
Rieck and her family – husband John and daughters Eva and Noah – were required to move out of their home for about 10 days total. As soon as they vacated, the Locations Department began transforming the home to suit its needs. The Riecks' living room furniture was removed and replaced with props. Alterations were made as needed, including installing the new garage door. Once filming was complete, the crew would restore everything back to its original state, but the Riecks had the option to keep structural changes like the newly installed door.
The Riecks – and nearby homeowners who would be impacted by the activity – were paid a fee for the use of their home. "Army Wives" also normally pays for accommodations while residents are displaced, but this was not an issue for the Rieck family.
"My parents have a town house in Dunes West, and we stayed there for about 10 days," Hillary Rieck explained.
From a distance, it was easy to see activity as exterior shots were filmed. Naturally, moms with kids in tow strolled around Canton Square, hoping to catch a peek of the action.
Once the serious work was done, the location crew broke down the set and moved on quickly. In the world of television production, time is indeed money and the schedule is paramount.
Drama at Fort Marshall: preview of next season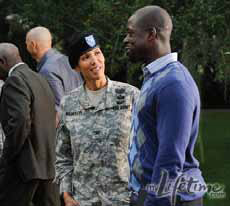 L ife at Fort Marshall takes a dramatic turn as season six of "Army Wives" begins on the Lifetime Television network. Starring Catherine Bell and Kim Delaney, this prime time series has gained an extensive following, especially in the Charleston area.
Quite a few locals are employed by "Army Wives", which is produced by ABC for Lifetime Television. If you would like to make your TV debut, "Army Wives" could be your ticket. The producers often need extras during filming. Keep in the loop by visiting Army Wives Extras on Facebook or signing up at www.extrasignup.com. And tune in Sundays at 9 p.m. on Lifetime to keep up with the trials of military life and to see who weathers the storm that is brewing on season six of "Army Wives."
Photography By Robert S. Basha, Lifetime ® and Barbara M. Patrick