A Peek into Old Village Homes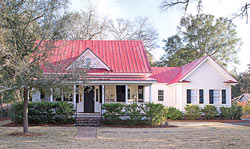 Have you ever glimpsed beauty through a wrought iron gate or a white picket fence? Did you feel like an intruder as you stopped and admired the brilliant color in a private garden beyond? To my great delight, we have been invited inside – to take a delicious long look at the beautiful homes and gardens of Old Mount Pleasant.
The fifth annual Old Village Home, Garden & Art Tour is set for April 22 from 1 p.m. to 5 p.m. Ten homes will be open for self-guided tours, and food prepared by local chefs will be served at each picturesque house and at St. Paul's Church.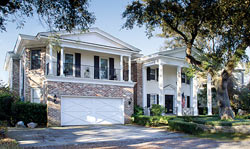 What says spring better than the bright azaleas in bloom in our own historic waterfront district? Old Mount Pleasant provides a brief trip back in time. Summer homes with wide porches are nestled in a cozy neighborhood shaded by ancient oak trees. The original Mount Pleasant plantation house, the Hibben House, still stands. Just a short walk away is the Old Village business district, so old-fashioned that it sports a Rexall® sign.
Pierates Cruze, a neighborhood with a history dating back to the Revolutionary War, has long been home to seven historic gardens designed by Laird Branch Osgood, who won the prestigious Massachusetts Horticultural Society gold medal in 1947 for her hybrid camellias. Parts of her gardens survive, as does the reconstructed Belled Wall, an Italianate brick bell wall and arbor overlooking the harbor that was rebuilt after it was all but erased by Hurricane Hugo in 1989.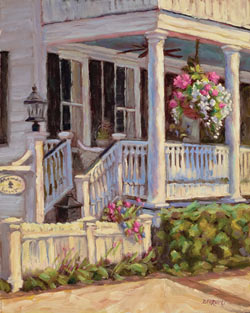 Tall white pillars frame the inviting, antebellum-style waterfront home of Mary Lou Murray Coombs, author of "Janie Mitchell, Reliable Cook: An ex-slave's recipe for living – 1862-1931," which was based on the diary of Mary Lou's grandmother's cook. The original diary will be on display and copies can be purchased. While here, enjoy the view that stretches from Sullivan's Island to the Arthur Ravenel Jr. Bridge.
For those who enjoy modern architecture, a waterfront example is the creation of W.G. Clark, the firm that designed the Inn at Middleton Place. The house, built by Tuk & Pherigo of Mount Pleasant, was completed in 1982.
Further along, a brilliant renovation of a two-story home brings the magnificent vista of Charleston Harbor into every room. This was a labor of love and vision by a local orthodontist and his wife. The view was the temptation that moved them from the Isle of Palms, and it just might inspire you to remove a wall or two.

J. B. Edwards Park will host the art show and sale by local artists, which will benefit the Lowcountry American Red Cross. Among the artists who will be present are Debbie Fornell, Leslie Pratt-Thomas and Elizabeth Middour.
Tickets may be purchased online, at Abide-A-While Garden Center on Highway 17 or in Edwards Park at 400 Pitt St. on the day of the event. Enjoy your peek over the garden gate into the past. For this one, ya'll can all go at once.
For more information, visit www.LowcountryRedCross.org.
Photography by John A. Kauth