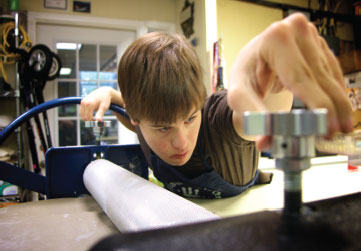 If the kids are lucky, they'll find goodies to cherish for a lifetime – or at least until the new year – under the tree.
Even in a world driven by electronics, children create their own realm with unique toys. Skip the big box stores and shop local.
For the mini-mogul in your family, invest in the Grocery Store/Lemonade Stand by Melissa and Doug. It offers the charm of an old-fashioned stand, complete with bins for groceries – or lemons – a shopping cart and a cash register to ring up purchases. It is hours of fun, and your little one might just pick up some new math skills.
Imaginary journeys are more enjoyable with a train set. Kids are all-aboard with Thomas the Train or Chuggington. Not sure which one to place beneath the tree? Let your child explore them both at Wonder Works.
Sometimes it is best to stay home and nurture a family. Little ones will enjoy creating cozy homes with Calico Critters of Cloverleaf Corners. Build an entire village, complete with residents such as the Hopscotch Rabbit or the Ellwoods Elephant families.
If there are book lovers on your list, Jonathan Miller, a local writer, has created a series of Sammy the Wonder Dachshund's adventures in Charleston.
Another local entrepreneur, artist Tate Nation, offers a collection of puzzles that reflect Lowcountry life. Nation also sells paintings and prints done in his unique style; you can even commission a painting of your house.
Cooks and grillers will love handy tools such as the Charleston Hooker, the Charleston Butt Grabber or the Shrimp Zipper. All are locally made of James Island cherry wood.
Pottery by Mount Pleasant artist Christian Royal makes an exquisite gift for someone special. A 19-year-old with Down syndrome, he has a special talent for crafting clay. He makes each piece from scratch, often adding texture with lace and bits from nature, such as leaves. It is a family affair – Christian creates the work with help from his parents, and his sister and brother-in-law assist with shipping and marketing.
Don't forget the anglers, who are always in need of fishing equipment and accessories, as well as items such as seines and crab traps.
And speaking of sports lovers, stand-up paddle boarding is the hottest thing on water. Paddle boards, classes, private lessons and apparel are all available at local retailers in Mount Pleasant.
Lastly, if you need to engage the youngsters during a day of shopping, there is help close by. Try Brick by Brick, where Lego lovers can enjoy hours of fun, or The Little Gym, where your little ones can burn off that holiday energy. Both are located in Belle Hall Shopping Center and offer classes and parties as well as the sometimes much-needed parents' night out.
Complete your shopping list in Mount Pleasant, then relax and enjoy the season.