Read About Green Friendly Boards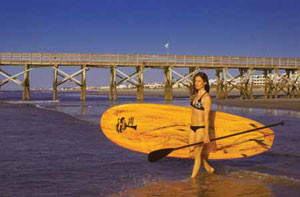 For Brian Schipper, it isn't hard to drift into a daydream and imagine the perfect wave. "It's that wave that comes right when you're about to go in, but, you know what, you've got to get one more," said the owner of the Odyssey Board Shop in Mount Pleasant. "So you're paddling, and the wave peaks exactly where you are. Not left of you; not right of you. You stand up at just the right time, and, as soon as you get on the wave, you just know. It's the perfect wave. And then you're waiting for that next one."
Unfortunately, many experienced surfers would be forced to confess that a steady influx of small waves lapping against the shore on the Isle of Palms and Sullivan's Island make catching that perfect ride a rather difficult task. But while the clean, white beaches, blue skies and warm water lure travelers from across the country to the Lowcountry, the thermometer is not the only thing rising in the area's waterways as spring turns to summer. While surfing still flourishes all around Charleston, it is the rather recent explosion of sports such as stand-up paddleboarding and kiteboarding that have taken the Carolina coast by storm.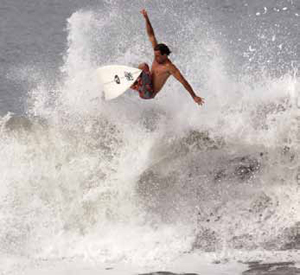 Dan Floyd started surfing on Folly Beach when he was 10. Now the 40-something owner of Oli Nah, a board shop on Isle of Palms, has a bit of trouble believing where his life has taken him. As a surfer growing up in Charleston, he admits that he, along with most others, felt starved for bigger and better waves. The search for such waves took him to Florida, the island of Moorea near Tahiti and Mexico. It was on a surf trip to Hawaii in the 1980s, though, that he first discovered windsurfing. He saw the unique sport and thought to himself, "Hey, there's another great way to stay in the water in Charleston, because there's always wind blowin' my waves up."
As he aged, so did the abuse his body was taking from surfing and windsurfing.
"In windsurfing, either some gear was broken or you were bleeding almost every session," he said.
After enduring the sometimes agonizing sport throughout the 1980s and 1990s, Floyd was exposed to kiteboarding. Like most action sports junkies, he was always searching for something new and quickly picked up the sport, finding it much easier on the body than its painful predecessors.
"A new sport is only new once," he explained. With the excitement that came from being a part of something so fresh and cutting-edge, he talked a friend into buying some kites, and the pair opened Charleston's first kiteboarding school in 2000 through Half Moon Outfitters. Since that time, the sport has grown in leaps and bounds, and locations such the Isle of Palms and Sullivan's Island have become something of a mecca for beginners and advanced riders alike.
"The practicality of it makes Charleston to kiteboarding sort of like Utah is to skiing or snowboarding," Floyd said.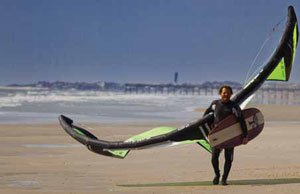 Mark Bily, an avid kiteboarder and former certified instructor and manager at Air & Earth in Mount Pleasant, was first exposed to the sport in California. Having come from a snowboarding and surfing background and having always been self-taught, he returned to Charleston, bought a used kite and tried to teach himself the sport. The result of Bily's initial attempt was a pair of black-and-blue feet and enough frustration that the kite languished in a shed for nearly two years. Eventually, though, he gave it another shot, slowly progressed and now recommends lessons to anyone interested in taking up the sport. Bily openly confesses that he has been an undeniable kiteboarding addict for the past seven years.
"It has taken everything I love – skydiving, snowboarding, surfing – and put them all into one package," he said.
He gets his fix in the waters of Isle of Palms and Sullivan's Island, for the most part, and claims that the Carolina coast spoils local kiteboarders.
"We have a predominantly all-sand coast, and there really aren't many obstructions," he said, noting the beaches' easy launch and land spots.
Obstructions or not, kiteboarding certainly requires a certain skill set that not everyone possesses. If you can't quite muster up the bravado to give kiteboarding a try, fear not – there is another sport catching on like a Lowcountry wildfire. And the best news is that just about anybody can participate.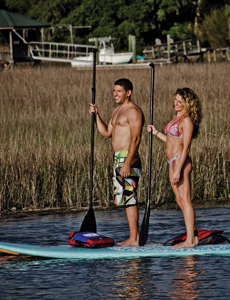 According to Dave Clifford of Charleston Watersports, paddleboarding's demographic ranges from age 8 all the way to age 80. Clifford, the first to bring stand-up paddleboarding to retail in Mount Pleasant, has been gliding through the local waterways, causing drivers along Shem Creek and elsewhere to question whether they were witnessing miracles involving men walking on water. This summer, he and Tom Carroll of the College of Charleston are offering a nine-session course, exposing the new sport to an even more diverse crowd. This summer's classes have been full since March.
Aside from its allure for people of all ages, all professions and all levels of athletic ability, stand-up paddleboarding's rise in popularity can be attributed to the fact that all it requires is water.
"You can do this sport in a puddle of water, in a lake, in a tidal creek or in the surf," said Clifford.
Schipper, whose true passion, surfing, shows clearly through brightly lit eyes and wide smiles when the topic is brought up, has grown to enjoy paddleboarding for similar reasons.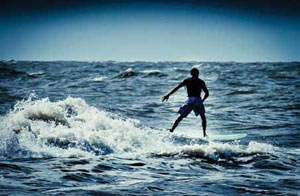 "With stand-up, you can still embrace the surfing aspect, but you don't have to have the huge waves to have a ton of fun," he said.
Citing 9th Avenue and Breach Inlet on the Isle of Palms as two of his favorite spots, he claims that another benefit of paddleboarding is the full-body workout paddlers can get with just a quick trip down Shem Creek. According to Schipper, he's even seen fitness buffs up the ante a notch with Pilates and yoga as they float atop their paddleboard.
Schipper explained the different types of stand-up paddleboards. There are race-style boards, which are built for speed on mostly flat water; cruiser boards, which are sometimes called all-around boards and are used mainly to access areas unreachable by boat; and surf-style boards, which are usually shorter and are used to get on the waves.
When Elizabeth Anderegg and Bob Weaver, guides with Nature Adventures Outfitters, hopped on a paddleboard for the first time in January 2011, they were prepared for the worst. Dressed in full wet suits in case they toppled into the frigid January waters, they hesitantly inched their way into Shem Creek. To their surprise, nobody went overboard, and they both confess that one reason the sport has become so popular is that it isn't difficult to master. It didn't take long for them to convince Kathie Livingston, who owns the company, to add paddleboards to their arsenal of kayaks and canoes available for rent. As a result, in the past year, Nature Adventures Outfitters has experienced significant growth, even through the winter months.
For Anderegg, a mother who believes children should "unplug" and get outside, stand-up paddleboarding is a great family activity. For Weaver, a lifelong surfer, scuba diver, kayaker and lover of all things water, the advantage of paddleboarding is that it gives him a different perspective on Nature while he's on the creek or in the harbor. Also, now in his 60s, it puts less strain on his back.
"When you get old like me, you don't have to wait to catch the wave to stand up," he said. "You're already standing up."
Floyd appears cool and casual, but he is also meticulous when it comes to keeping track of his time on the water. In recent years, that precious time has increased.
"All through the years, I used to write down my surf days on the calendar," he explained. "If I remember correctly, I might have gotten about 55 or 60 days surfing. Then, when windsurfing came along, that was more days on the water – maybe 85 or 90 days a year. As soon as kiteboarding and paddleboarding came along, we were blown away, because it's really not hard to get 150 days on the water, and that's with full-time work and kids."
Bily, another lifelong lover of the blue planet, echoes a similar sentiment.
"You can spend every day in the water here on a board if you wanted to," he mused. If this past winter's unseasonably high temperatures are any indication of what's in store for the upcoming summer, the water is certainly where most of us will want spend some time.
Read About Eco-Friendly Boards
Photos by Air & Earth, Kent Photography, and Brian Schipper