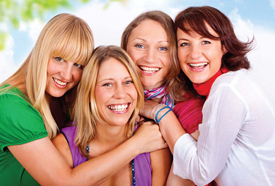 Media Services, which has vast experience producing quality home shows and retirement living shows in the Carolinas, is bringing back Charleston's Women's Show – after a 16-year hiatus.
The event, set for March 3 and March 4, 2012, at the Omar Shrine Auditorium and Convention Center in Mount Pleasant, will be sponsored by Mount Pleasant Magazine.
"Our first women's show actually took place right after Hurricane Hugo in 1989 in downtown Charleston," said Bill Macchio, publisher of Mount Pleasant Magazine and Carolina Homes & Interiors. "After the storm was over, I actually rode to the King Street Palace to make sure it was intact before even checking on my own home. We hosted the show until 1995 and now feel it is time to give our readers in the Lowcountry a chance to speak face-to-face with many business leaders in our area."
Margaret Ann Michels, editor of Mount Pleasant Magazine, said she is thrilled with the response to the magazine from local residents and advertisers.
"No matter who I'm talking to, as soon as I mention Mount Pleasant Magazine, they tell me how much they like it. Everyone seems really happy to have their own magazine. I've heard this from people of all generations, genders and occupations," she commented.
Mount Pleasant Magazine, which covers a wide range of topics in each issue, will have the opportunity to expand its reach through Charleston's Women's Show.
"Women make a lot of the decisions today, from carpet cleaner to what sports to enroll their kids in, and they have a lot of information coming at them from many directions," said Michels. "Charleston's Women's Show is a way to bring together vendors who have products and services to offer with the women who need, want and use those items."
The show will feature more than 90 vendors, a fashion show, multiple demonstrations and various speakers.
"We are in such a convenient location, right off the Ravenel Bridge, with more than 400 free parking spots and extremely easy loading for the vendors," said Jamie Lewis, event manager for The Omar Shrine Auditorium and Convention Center. "I think the women of Charleston will be thrilled to have a show geared strictly to women's needs. I believe Charleston's Women's Show will be a major success."
The show is geared toward women of all ages.
"This is such a great opportunity for vendors and visitors alike," Macchio pointed out. "Women have a lot of responsibility for themselves and their families, and now they can find answers for many of life's questions all in one place."
The doors will be open to the public at 9 a.m. on Saturday and 10 a.m. on Sunday. To learn more about the vendors and demonstrations, visit www.CharlestonsWomensShow.com. If you are interested in becoming a vendor, contact Media Services at (843) 881-1481 ext. 22