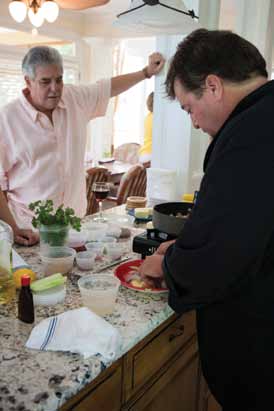 When you go out for an exceptional dinner in the Lowcountry, you aren't likely to order the same ol' dishes you make at home each evening. The purpose of having someone else do the cooking is experiencing exceptional flavor and out of the ordinary service.
These days, you don't even need to go out to a restaurant – you can stay home and enjoy all the incredible attributes of a remarkable dining experience.
Don't worry if that sounds too good to be true or if you're uncertain of your own ability to whip up the kind of gourmet grub found in Mount Pleasant's swankier establishments. The personal chef trend sweeping East Cooper makes it easy to enjoy the most sensational dinner of your life in the comfort of your own dining room.
When Iva and Dick McDermott decided to host an intimate, delicious dinner with a few friends, they called their favorite personal chef, Pete Twomey of Islands Catering.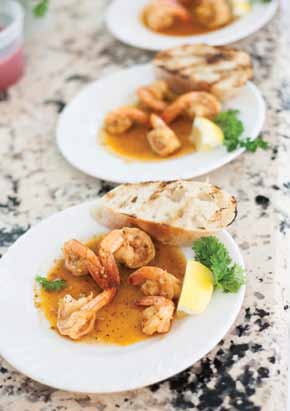 "Pete has cooked for us before, and he's really excellent," said Iva. "We've had his she crab soup, ribs, coconut shrimp. … everything has been great. It's fun just to watch him do the cooking."
The night the McDermotts hosted their gathering, Pete and Juli Twomey, his wife and business partner, brought their expertise and their culinary enthusiasm right into the couple's kitchen. They were armed with cookware, dishes and fresh, local ingredients, and Iva, the most relaxed of hostesses, didn't have to lift a finger.
"We don't have a special occasion this evening; we're just friends getting together for a good meal and a nice time," Iva said.
"This is the only time I remember using real silver at your house," guest Mike Wisneski added with a chuckle.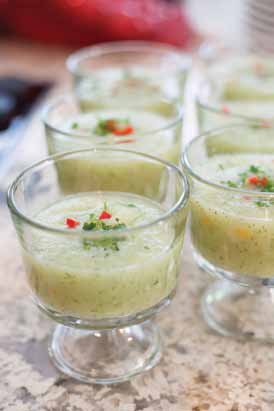 While the hosts and their friends relaxed with a glass of wine, Pete and Juli set about creating a delectable menu: Louisiana barbecued shrimp with sourdough bread, chilled cucumber and dill soup, baby greens with fresh strawberries and pecans, a filet wrapped with bacon and stuffed with crab (seriously), plus bananas Foster for dessert. The meal was put together lovingly, one phase at a time. The guests were able to watch their dinners come to fruition.
"Those are some mighty attractive shrimp," I said, watching Pete fold barbecue sauce.
"They were just swimming yesterday," he replied with a grin. "I don't think there is anything better than a Carolina shrimp."
The guests raved over their first course, sopping their plates with the crusty bread. While they ate, Pete and Juli assembled salads and soup for the second course. I asked Pete what food is his favorite to make.
"I can't say – it's like picking a favorite child," he mused, delicately placing strawberries into their leafy beds. "I would say my influences are mostly Mediterranean and Italian. I enjoy cooking with wine and beer, mustard, and garlic."
Unlike the McDermotts, their dinner guests – the Wisneskis and the Watsons – had never attended a personal chef party. They were delighted at the opportunity to watch an experienced chef cook them a magnificent meal.
"This is our first time coming to something like this," said Katie Watson. "It's exciting to consider a nice meal made in your own house, one you don't have to prepare or even shop for. So many people spend a lot of money going out to eat at nice restaurants. But this is definitely more intimate and cost-effective."
Twomey said most of his menus are a collaboration of what the hosts want and what he suggests.
"We always talk about it, and very rarely will people just say 'make whatever you think,'" Twomey said. "I try to steer the hosts in the direction of whatever is fresh at the farmers market – whatever's good that season."
The guests watched as Twomey created a whiskey peppercorn sauce for the filets. The whiskey caught fire in the pan, lighting up their eyes. I tested the sauce, dipping the corner of a bread slice into the pan. It was irresistible.
"I would take a bath in this," I declared.
The guests barely noticed my comment; they were too engrossed in their own food euphoria. And let's face it: If you've lived in this area any length of time, you've had an amazing dinner or two. I suspect the comfort of the McDermott's friendly household is what made the meal better than a visit to any restaurant.
"I worked in restaurants for 20 years, and this was the natural progression of my career," remarked Twomey. "Personal chefing is a great thing; everyone can enjoy themselves within a relaxed atmosphere. We essentially let people be guests at their own parties."
The rich, sweet aroma of bananas Foster rounded out the cooking portion of the evening.
The Twomeys scooped the caramelized bananas into frosted goblets filled with vanilla ice cream.
"Hiring a personal chef is also a good option for large groups who are renting homes during vacation," Twomey said, wielding the scooper. "It's tough to select a restaurant for a group that large – restaurants are busy. This is a way to bring chef quality and service into your home."
He's not kidding about the service. Even I was surprised that no one at the table had to get up for a napkin or a wine refill once dinner began; the chef and his lovely assistant handled everything.
By the end of the meal, the guests were sighing contentedly and stretching out their legs beneath the dining room table. The Twomeys set about tidying up the McDermott kitchen – that's right; they even do the cleaning up.
"This has been absolutely sensational," everyone gushed. "Everything was delicious."
"We're definitely trying this again," said Katie Watson.
"Speaking of that," her husband, Matt, piped up, "What are you doing on my birthday?"
Photos by Tanya Boggs