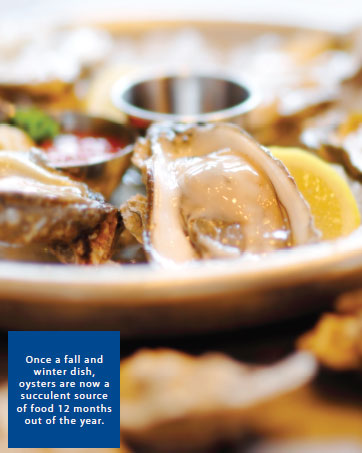 We suck 'em, shoot 'em, slurp 'em and savor every last second of their salty, sweet flavor before they slip down our throats.
Oysters, a popular seafood snack for centuries, unfortunately have flirted with near-extinction wrought by disease and overharvesting. In fact, according to the most recent study by the Nature Conservancy, shellfish have been struggling to survive worldwide, due in part to an 85-percent loss of oyster reefs. Nevertheless, the current Charleston-area oyster population is alive and thriving, according to Peter Kingsley- Smith, manager of shellfish for the Department of Natural Resources.
With nearby rivers and oceans chock-full of oysters, this means one thing for the people of Charleston: a terminal case of oyster fever.
Once strictly a fall and winter dish, the fruitful Charleston oyster population now serves as a succulent source of food 12 months out of the year. The only question is: Where do we go to assuage our oyster fever?
A favorite destination in East Cooper is The Boathouse, located on the Isle of Palms side of Breach Inlet. Formerly a bait shop, The Boathouse opened in 1997 and has been serving Lowcountry seafood and steaks ever since. The one-ofa- kind atmosphere gives customers the impression that they are dining in an "old wood boat," as sous-chef Aaron Greenberg put it.
Greenberg, who has worked at The Boathouse for 10 years, was eager to talk about oysters.
"We have numerous kinds – gulf oysters, blue point oysters, unami oysters," Greenberg explained.
Intrigued by the name "unami," I asked Greenberg for an explanation. He described the Rhode Island shellfish as medium-sized, briny, with a clean finish – and expensive at $15 per half dozen.
Another local oyster bar, or full-scale seafood restaurant specializing in oysters, as partner and General Manager Bob Redding likes to call it, is Mount Pleasant's own Abe's Oyster House. The 4-year-old eatery has a sincere local feel about it.
"We serve oysters yearround, but our biggest oyster season are the winter months between September and April," Redding explained.
Redding spoke about those winter months with exceptional enthusiasm, talking of a packed restaurant on Sunday afternoons, filled with locals slurping down $7 buckets of steamed oysters. He went on to praise the great work that DNR has done restoring the Charleston oyster population.
"Abe's is just one small restaurant that sells oysters, and we run through 40 bushels a week. Without the DNR's work to replenish our local oyster population, that price of $6 or $7 a bucket would certainly go up," he said.