Family Circle Tennis Center
It's been more than a decade since the Family Circle Cup broke up its marriage with Hilton Head Island, headed north to Daniel Island, escaped the shadow of the Heritage golf tournament and set out to make its own unique mark in the wide world of sports.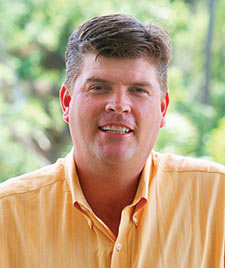 Today, it is one of the Lowcountry's most prestigious sporting events – rivaled only by the Cooper River Bridge Run – drawing tens of thousands of spectators and another 8 million television viewers during a nine-day event featuring the world's finest female tennis players.
When the Cup left Hilton Head in 2001 and embraced its brand-new facility – built from scratch in just 10 months – a young but already well-traveled golf enthusiast and casual tennis fan from Walden, New York, went along for the ride. Bob Moran, now 42, is in his fourth year as general manager of the Family Circle Tennis Center. He worked his way to the top well after Charleston officials lured the tournament to the island on the northeast side of the city.
"I started out doing odd jobs in Hilton Head," Moran explained. "Lisa Thomas, the director of the Family Circle Cup at the time, had sold me on coming to South Carolina."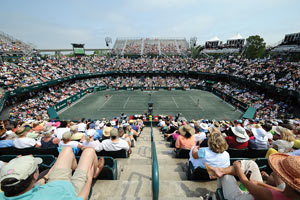 Moran moved south from Walden, a village of 6,978 people on the Wallkill River, to play college golf at Elon University in North Carolina. He also has lived in San Diego and Chicago but speaks of the Holy City as if it might be his last stop.
"Charleston is such a beautiful city, and the people here are great," he said. "I enjoy nothing more than bringing clients into town. We have a great home-court advantage."
Those clients include people outside the world of tennis. The facility Moran runs is the center of the women's professional tennis universe during the nine days of the Family Circle Cup, but it isn't exactly dormant the rest of the year. In addition to providing lessons and hosting leagues and various forms of competition for tennis players of all ages, the Family Circle Tennis Center hosts concerts and other events, and Moran is constantly seeking new ways to use the stadium.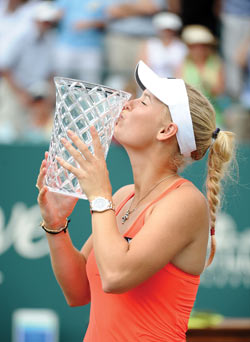 "We're busy. We've evolved from just doing the Family Circle Cup to being an event management team," he commented. "We want to grow our business and our revenue streams. Our mission is to bring value to this community, and we're always looking at opportunities to do just that."
An impressive list of musical acts have performed at the Family Circle Tennis Center, including The Black Crowes; Don Henley; Sugarland; Al Green; Daryl Hall and John Oates; the Zac Brown Band; Boyz II Men; Train; and hometown hero Darius Rucker and his band, Hootie and the Blowfish, who put on a benefit concert every year.
Moran said he would like the Center to host 10 to 12 concerts a year.
On occasion, hosting an event at the Center, which seats 10,600 for tennis and around 7,500 for concerts, entails some temporary remodeling. For example, the tennis courts had to be resurfaced for Davis Cup matches in 2004 and for World Team Tennis in 2011 and again in 2012. When the professional beach volleyball tour made a stop at the stadium, Moran brought in 80 dump trucks of sand. For the 2011 Daniel Island Holiday Festival, the tennis courts became a skating rink with an acrylic surface that only looked and acted like ice.
Despite concerts and other events, tennis remains the Center's most important business and a vital economic boost for the Lowcountry. Moran, who keeps track of such things, pointed out that over the years, tennis fans from every state except Wyoming and from various foreign countries have attended the Family Circle Cup, an event that draws players from 35 nations. Among his goals for the tournament is to hit the 100,000 mark in attendance; the record so far is 95,767 in 2010.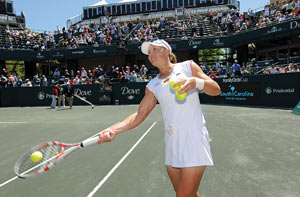 A related objective is to do everything possible to fuel the ever-growing popularity of the sport of tennis in the Lowcountry. The Family Circle Cup certainly played a key role in the United States Tennis Association's decision to name Charleston the country's "Best Tennis Town" in 2010. Despite its relatively small size, Charleston was chosen over two larger finalists.
"The community really came together to win the award," Moran said. "Considering our population and the number of tennis players in Atlanta and Richmond compared with Charleston, it was an amazing feat. It demonstrates how important tennis is to this community.
town, there has been unbelievable growth in the number of people playing tennis. We're seeing an increase in club members and especially in junior programs," he added. "We're a beacon of tennis in this community. Professional tennis drives recreational tennis in the Charleston area."
Now if he can just convince one tennis fan from Wyoming to show up at the next Family Circle Cup …
Test your knowledge of the Family Circle Cup by trying the trivia questions in Web Extras at www.MountPleasantMagazine.com. For more information about the Family Circle Cup, visit www.FamilyCircleCup.com.
Tennis Photography by Chris Smith
Event Photography by Mike Saia