As Fall approaches, and with it America's most popular food-related spectator sport, football fans everywhere are preparing to kick off their tailgating plans, a feat that has the potential to become an endurance sport on its own for those who fail to plan effectively and execute a winning strategy. Three local Mount Pleasant restaurants offer options that will prevent you from fumbling your opportunity to host prize-winning tailgating parties every time. With their help, all you have to do is sit back, enjoy yourself and your guests and hope your favorite team is just as prepared as you are.
Sticky Fingers: The Legend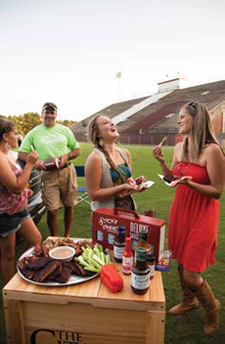 You are certain to avoid penalty flags in the form of complaints from your guests with the help of these veteran players in the tailgating game. Outdoor cooking is typically a laid-back process, so it is easy to overlook the basics of food and grilling safety, which are essential, even for the most experienced chefs.
Here are a few guidelines to get you started: preheat the grill for 10 to 15 minutes with the lid down and the burners set on high; cook on clean grates; don't cross-contaminate, wash your hands often and keep counters and work surfaces clean; marinate meats in the refrigerator, not at room temperature; use long-handled barbecue utensils to avoid burns and splatters; cook meat thoroughly; and brush on your favorite barbecue sauce in the last 10 to 15 minutes of cooking for lasting flavor, preferably Sticky Fingers' own brand, offered in five award-winning varieties.
If you're looking for barbeque and you don't feel like setting up the grill, Sticky Fingers is a winning pick with its "fall-off-the-bone delicious" ribs, pulled pork barbecue and chicken.
FoodEZE, Executive Caterers: The Rookie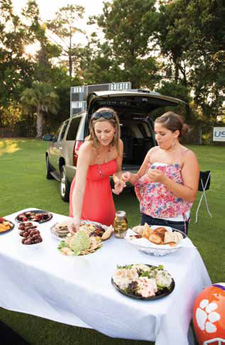 Although it's a new concept, FoodEZE Executive Caterers is seasoned in its culinary greatness and experience in providing nourishing meals prepared with local ingredients. Teamed up with Palmetto Pig Barbecue, Foodeze Executive Caterers offers an extraordinarily tasty spin to the traditional tailgating menu.
You will certainly score with your guests if you choose any of these menu alternatives: barbequed pulled pork or fried chicken served with mac and cheese, cole slaw and baked beans; sausage, pepper and onion hoagie sandwiches, chicken tequila hoagies, big game steak sandwiches, deviled eggs and potato salad; or steamed shrimp and crab cakes with a scrumptious dipping sauce trio, stuffed jalapeno poppers and loaded potato skins.
With these divine selections, your guests will think you're a veteran, and you might just get stuck with home-field advantage – serving as the host – all season long.
Raising Cane's: The Professionals
If you've had your share of burgers and brats, Raising Cane's® will help you level the playing field with its menu of 100-percent premium chicken tenderloins – marinated for 24 to 36 hours, hand-battered and cooked to order. You can feel supremely confident passing the ball to these guys. They offer tailgate portions of their fresh, never-frozen chicken fingers, available in any quantity and served with plenty of lip-smacking-good special Cane's Sauce, prepared in-store daily with the highest-quality ingredients. Your guests will be blitzing your food tables from all angles. You can count on each of them eating at least three chicken fingers, but don't forget to account for the ball hogs.
Cane's dynamic team spirit doesn't stop there. If you purchase a jug of their amazing sweet tea and freshly-squeezed lemonade to wash it all down, you'll also get a pair of sunglasses. Add Texas toast or cole slaw and you are guaranteed to score extra points from your party guests. There's no need to watch the clock – you can call and place your order on your way to Cane's.
With an uncluttered menu and unparalleled quality standards, Raising Cane's® has maintained a superior reputation for its fresh and exceptionally juicy chicken fingers, great crews, cool culture and community involvement.
"At Raising Cane's®, you know what you're getting when you order, and you can expect the same quality on every encounter," said Dropping Bird, LLC Marketing Manager Aimee Zborowski.
Dropping Bird LLC, a franchise of the thriving corporation, is locally owned. It opened the doors of its Mount Pleasant store in 2010 and added an outlet in North Charleston a year later. A young company developed in Louisiana in 1996, Raising Cane's® boasts 125 stores across 15 states.
2012 Tahoe provided by McElveen East Cooper Chevrolet; props provided by Royall Ace Hardware; sports logo paraphernalia provided by Man Cave of the Lowcountry; hair and makeup by Vanity Salon.
Photography by Tanya Boggs