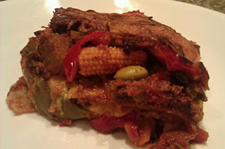 Mexican Lasagna
Ingredients:
• 2lbs of chorizo ground sausage (The sausage usually comes in a plastic casing you have to remove in order to cook the meat.)
• 2.5lbs of frozen vegetables (I use about 1/2 bag of Birds Eye Stir Fry; it comes with green beans, yellow & red bell peppers, carrots, baby corn, snap peas, and mushrooms. Be sure to remove the sauce packets.)
• (4) 10oz cans of Rotel tomatoes (I use 2 "Mexican Lime & Cilantro" and 2 "Hot Diced Tomatoes with Habaneros." Note: the "Habaneros" Rotel makes this dish pretty spicy; if you would rather have a more mild lasagna, use only the "Mexican Lime & Cilantro.")
• (½) 6oz can of tomato paste
• 8-10 whole wheat tortillas cut in halves (depending on size; they usually come in a pack of 12)
• 8 Cups of Mexican blend cheese (The one I use comes with Monterrey jack, cheddar, queso and asadero)
Method:
Preheat oven to 350 degrees.
Turn heat to medium-high, and place a large pot on the stove. If applicable, remove chorizo from casing. Place meat into pot and cook until it has a crumbly texture, around 10-15 minutes. Chorizo has many colorful spices in it, so it can be difficult to tell when it is thoroughly cooked.
While you are waiting for the chorizo to cook, steam your veggies. I prefer the double broiler method (steamer pot on top of another pot of boiling water).
When the meat is cooked, turn heat to medium. Take about ¼ cup of some of the tomatoes and cilantro from of the Rotel cans, and set aside for the lasagna topping. Add in all 4 cans of Rotel (don't drain) and 1/2 can of tomato paste. When the veggies are tender and thawed, add them in as well, and let this mixture simmer on low for 20 minutes. Note that you will not need to salt or pepper this dish. Between the chorizo and the Rotel, there is plenty of flavor.
While you wait for the mixture to cook together, cut your tortillas in half. If you have a pizza cutter, that works brilliantly.
When the mixture is cooked, go ahead and start layering your lasagna. First, start with a thin layer of sauce on the bottom. Then add your tortillas. Add a second, thicker layer of sauce. Top the sauce with 4 cups of cheese. Add remaining tortillas. Add remaining sauce. Top with last 4 cups of cheese and ¼ cup of Rotel tomatoes and cilantro.
Bake for 30 minutes at 350 degrees; switch to broil/500 degrees for 5 minutes to brown and crisp the cheese.
Tipsy Chorizo Cheese Dip
Ingredients:
• ½ lb ground chorizo sausage
• 1lb white Velveeta cheese
• 1 cup of white wine
• 10oz can of Rotel tomatoes (drained)
• Bag of "scoop"-type chips
Method:
Cook chorizo over medium-high heat in a large pot for about 10-15 minutes. Cut 1lb of white Velveeta cheese into cubes and add to chorizo. Stir in 1 cup of white wine. Mix in drained Rotel tomatoes. Continuously stir until cheese is melted. Serve in a fondue pot or crock pot on low heat with "scoop"-type