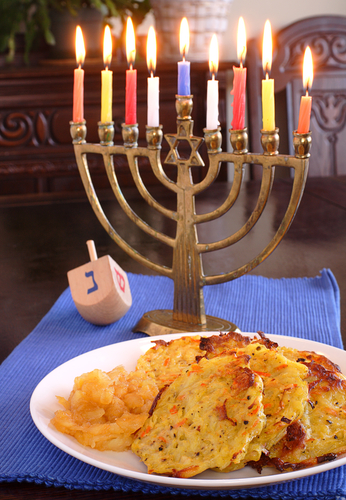 When I lived in the United States, I made potato pancakes for the Hanukah holiday. We usually placed a dab of sour cream or apple sauce on top – and I made them part of a meal.
The idea is to consume food that is made with oil in commemoration of the oil that burned for eight days, even though there was only enough for one day.
In Israel it is customary to eat doughnuts on Hanukah.
I also bake cookies for family and friends. I have an old cookie recipe that my mom used. The dough for these is rolled out and cut with cookie cutters pertinent to the holiday – for example, a candelabra, a candle, a star of David, a lion, a ram's horn or a dreidel, a spinning top used in a game played on Hanukah.
POTATO PANCAKES
4 potatoes, peeled, grated and drained
1 egg, beaten
1 onion, grated
3 tablespoons potato starch or flour
1 teaspoon salt
1/2 teaspoon baking powder
1/4 teaspoon black pepper
1/3 cup oil
Mix potatoes, onion, salt, pepper, egg, potato starch and baking powder until very smooth.
Heat the oil in a skillet. Drop by tablespoonful. Brown one side and turn to brown other side.
Drain well on paper towels.
DOUGHNUTS
3 1/3 cups flour
1 cup sugar
3 teaspoons baking powder
1/2 teaspoon salt
1/2 teaspoon cinnamon
1/4 teaspoon nutmeg
2 tablespoons oil
2 eggs
3/4 cup milk
Heat oil in fryer to 375 degrees F. Measure 1 1/2 cups flour and the remaining ingredients into large bowl.
Blend 1/2 minute on low speed. Beat 2 minutes medium speed. Stir in remaining flour. Roll gently 3/8  inch thick. Cut with floured doughnut cutter. Slide into hot oil. Fry 2 to 3 minutes. Drain. Best eaten the same day.
SUGAR COOKIES
2 cups flour
1 cup sugar
2 teaspoons baking powder
1 tablespoon milk
1/2 cup butter
1 teaspoon vanilla or lemon peel
2 eggs
1/4 teaspoon salt
Knead until batter is ready to roll out on floured board.
After cookies are on cookie sheet, sprinkle with sugar if desired.
Bake at 425 degrees F. about 10 minutes.