You can believe Bryan Cole when he tells you he built his business, because that's exactly what he did.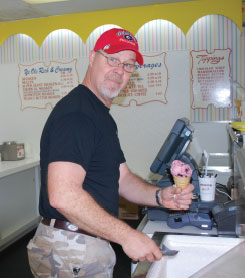 In 1994, long before Mount Pleasant grew to become the fourth largest municipality in South Carolina, Cole surveyed a cinderblock building on Highway 17 and had the vision that it could become the site of a successful restaurant. Paying no attention to advice from friends and family members, he began the task of converting a car repair business into a thriving eatery – laying floors, building counters, dropping the ceiling and even handling some of the heat and air, electrical and plumbing work.
After four months of working at night and on weekends, he was ready to expand the Ye Ole Fashioned Ice Cream & Sandwich Cafe chain, and, nearly 19 years later, he and his wife, Becki, are the proprietors of one of Mount Pleasant's oldest restaurants.
Becki Cole's father established the first Ye Ole Fashioned in West Ashley in 1972, and the popular chain now has seven links. Bryan Cole worked for his father-in-law for three years before opening the Mount Pleasant version. The menu features burgers, hot dogs, sandwiches and salads, as well as homemade soup and several sides. And then there's the ice cream, 36 flavors and a long list of splits and sundaes, from the reasonably simple Black & White, with vanilla and chocolate ice cream, hot fudge and marshmallow, to the Pig's Trough, an enormous double banana split.
Cole is proud to boast that Mount Pleasant's Ye Ole Fashioned looks like something out of the long-distant past, a comfortable place where people can drop by for a hearty meal and maybe some ice cream for dessert, all at a reasonable price.
"It's like a throwback in time. It's a mom-and-pop store. We give you the feeling of an old-time soda shop," he commented. "It's like a non-alcoholic 'Cheers.' We know our customers, and we talk a lot of college football in here."
Being a University of Georgia fan, Cole doesn't get involved, at least not directly, in the Clemson/South Carolina debate. There is a somewhat embarrassing photo of him hanging in the restaurant, however: He's wearing a skirt, the result of a wager he made on a Georgia/Carolina game.
"I love the Bulldogs, and, if you don't, I feel sorry for you," he laughed. "But I love cutting up with the Gamecock and Clemson fans."
Cole has 14 employees, not counting Becki and their 16-year-old son, Payton, but he is generally the first to arrive and the last to leave. He works six or seven days a week, handling virtually every job at one time or another, from cooking to waiting tables to cleaning, scheduling and ordering the items he needs to put together the culinary creations that keep people coming back.
"I wouldn't ask an employee to do something that I wouldn't do myself," he explained. "The buck stops here, and, if I'm not going to tote the load, I can't say that. The restaurant business is tough, but you get out of it what you put into it. You have to be married to it."
How has Ye Ole Fashioned Ice Cream & Sandwich Cafe thrived for nearly two decades, surviving an occasionally shaky economy and a lengthy road improvement program that has made it difficult, at times, for customers to reach the restaurant?
"We must be doing something right," Cole said. "We've been through some hard times, but we're still here."
Ye Ole Fashioned Ice Cream & Sandwich Cafe is located at 1502 Highway 17 North in Mount Pleasant. The restaurant opens every day at 11 a.m., closing at 9 p.m. Sunday through Thursday and at 10 p.m. Friday and Saturday.