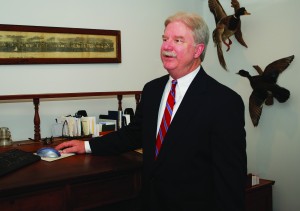 The field of law is complicated, structured by laws and rulings yet fluid and malleable as it applies to human behavior. Some areas of law can be routine, such as real estate, with its mounds of paperwork and figures. Others, including criminal and civil cases, are much more complicated, and the pathway to satisfactory results can be ambiguous. But, no matter the area of expertise, there is no substitute for experience.
"Give six different lawyers the same set of facts and you'll get six different proposed solutions," said Dennis O'Neill of the O'Neill Law Firm, pointing out that the path to the best solution is reached through a combination of knowledge and experience. "Practicing law is a tremendous challenge. Putting together the pieces is like solving a puzzle."
O'Neill solves puzzles for his clients, but he is also a "lawyer's lawyer." His counsel is sought by his peers as well.
"He has a knack for seeing the solution," according to fellow lawyer Frank McCann, past president of the Charleston County Bar Association. "He has a clarity of thought that I envy. I consider him my lawyer."
Over the course of his career, O'Neill has faced hundreds, if not thousands, of challenges. After graduating from the University of South Carolina Law School in 1978, he took advantage of virtually every opportunity that came his way in order to gain experience, including offering his services as a public defender to the city of Charleston.
"My friend and I thought it was a good idea to offer to be public defenders at the age of 25," O'Neill said, adding that they were immediately put to work.
Throughout his career, O'Neill gained experience in criminal trials – he defended his first murder case in 1979 – as well as in civil court, serving as counsel and co-counsel in cases ranging from automobile accidents to custody disputes.
In 1983, having spent several years arguing cases for both the defense and the prosecution, O'Neill was tapped to be a judge for the Mount Pleasant Municipal Court; he was chief judge for seven years. He also has served the municipal courts on Sullivan's Island and the Isle of Palms and as a special Circuit Court judge for the Court of Common Pleas for the Ninth Judicial District.
Today, O'Neill continues to concentrate on criminal cases, personal injury, real estate, probate and related matters. For the past 14 years, he has been judge of the Seabrook Island Municipal Court.
O'Neill is well respected by his peers for his experience and his approach to solving the legal challenges of real life.
"Dennis is the go-to guy," said Stanley Feldman, a lawyer and a longtime friend.
Feldman added that life can be complicated, and people sometimes have difficulty understanding the difference between "their rights" and "the best thing to do under the circumstances."
"Dennis has a good sense of which battles to fight," Feldman said. "He is the cream of the crop."
The O'Neill Law Firm is located at 1473 Stuart Engals Blvd. in Mount Pleasant. For an appointment, call (843) 884-9494. Additional information can be found at www.OneillLawFirm.com
Story by Barbara M. Patrick
Photo by Brian Sherman