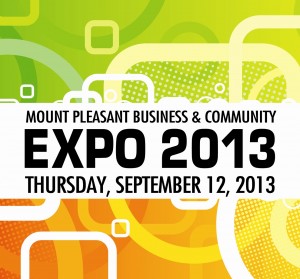 Make Plans to Attend the 2013 Business and Community Expo.
In its first two years, the Mount Pleasant Entrepreneur and Business Expo gave local companies, professionals and organizations an excellent opportunity to market their products and services to residents and visitors. Throughout the day, attendees and vendors exchanged ideas and contact information with one goal in mind: to get the word out about the businesses that were driving the local economy.
This year, the Mount Pleasant Business Association is giving its annual event a new name and a new look. The Mount Pleasant Business and Community Expo, scheduled from 2 p.m. to 7 p.m. Sept. 12 at the Omar Shrine Convention Center, will still be all about business. MPBA has added a new dimension for 2013, however: The Expo also will be about fun.
In addition to the chance to visit with more than 60 vendors, those who attend the Expo will be treated to live entertainment presented by a jazz band highlighted by Lyndsey Goodman-Moynihan. During the final two hours, attendees and vendors will enjoy food provided by local restaurants, and they'll be able to wash it down with beer and wine, which will be sold at various locations on the convention floor. Local radio personality Kelly Golden will be broadcasting from the Expo, and door prizes will be given away throughout the day.
"We wanted to make the Expo more fun this year than it's been in the past," said Expo Committee Chair Brian Sherman. "It was a great business event in 2011 and 2012, but this year will be bigger and better. Our vendors will be able to continue to do business during the happy hour."
Local law firm Clawson and Staubes is the title sponsor of the Mount Pleasant Business and Community Expo. Community sponsors include Tony Pope State Farm and the town of Mount Pleasant.
To reserve a booth at the Expo or for further information, visit www.mpbusinessexpo.com or contact Sherman at (843) 437-8817 or [email protected].