Good food is more than just what goes into a dish; it's also the spirit and passion of the restaurant's team. Mount Pleasant's own Steel City Pizza Co., a local and delicious spot for hot sandwiches, creative slices and more, puts emphasis on working with people as much as offering fresh, tasty ingredients.
"We aren't actually in the pizza or even the restaurant business as much as we are in the people business," said coowners Mark Gray and Adam Carb. "If we can delight our guests with a hot sandwich, a cold beverage and an hour break from the daily grind so they leave our restaurant happy, we've done our jobs."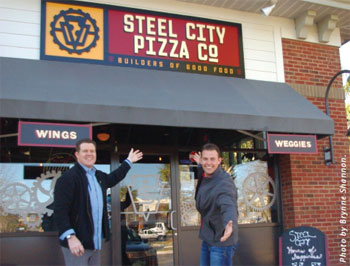 What some patrons of Steel City Pizza Co. might not know is that the restaurant is the same establishment it was nine months ago, when it was known as Giuseppi's Pizza. In fact, only the name has changed, not the owners, quality or service.
"We had a great thing going while we were known as Giuseppi's, and it was a bit nerve-racking to rebrand ourselves," said Gray. "But authenticity is important to us, which is what we have now as Steel City Pizza Co. We wanted a name that was a better reflection of who we are and what inspires us."
With the restaurant's new name, Gray and Carb have given a nod to their native Pittsburgh, also known as the Iron City or the Steel City.
"Pittsburgh is where our roots are, though we have called Charleston our home for 10 years," said Carb. "Pittsburgh is affectionately known as a blue-collar place, a place where workers aren't afraid to get a little dirty in the name of pride. That's what you see when you visit our restaurant."
If you look at Steel City Pizza Co.'s menu, the favorites are still there – from hot, cheesy "weggie" sandwiches to hearth-cooked pizzas. If you want to grab a tasty lunch, ordering one of Steel City's daily specials, from half subs to personal slices, ought to do the trick. Or stop in for dinner and enjoy draft beers and spirits in a friendly atmosphere.
"Pittsburg is known for being a melting pot of different cultures and ethnicities. Therefore the city's food is incredible," noted Gray. "We are bringing a little bit of Pittsburgh's passion for great food to Mount Pleasant with our restaurant."
Of course, the Lowcountry's local flavor is also within the walls of Steel City Pizza Co.; according to Gray and Carb, the restaurant donates a lot of food, labor and profit to local charities and works with about 20 local businesses to support the community whenever possible.
And although Steel City's second location in North Charleston is thriving, Gray and Carb are adamant about the Mount Pleasant location being the flagship for as long as the town will have them.
"We are so thankful to the Mount Pleasant community for letting us stick around for eight years," they declared. "For us, there is no better career than this; we get to get up each day and do what we love, thanks to our guests."
For more information about Steel City Pizza Co., visit steelcitypizza.com or call (843) 856-2525.