New Reasons to Visit Cuoco Pazzo
Like many other restaurants in the Lowcountry, Cuoco Pazzo has experienced some upgrades since it opened. The neighborhood trattoria is changing its menu to suit the enthusiasm and tastes of its regulars and to gain new fans in Mount Pleasant and the surrounding islands.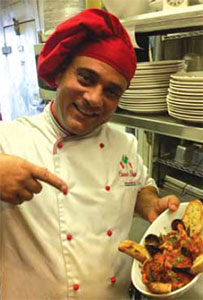 Tucked away in the Anna Knapp Shopping Center, Cuoco Pazzo is exactly the sort of place you might not visit until you were clued in by someone who knows what they're talking about in terms of dining. And those folks – the restaurant's regulars – are raving over the dishes that are now offered on a regular basis.
"We've had specials frequently – that is, weekly dishes that we wanted to introduce to the community," said Davide Davino, the head chef and owner of the restaurant. "We're listening to the requests of our customers and we've noted what they want."
Recently added dishes to the summer menu include the prosciutto salad, complete with homemade balsamic vinaigrette; the portobello salad, featuring grilled portobello atop mixed greens; plus other delectable entrees. "As long as we have the ingredients back there, we say, let's do it!" said Angelica Cirinna, one of the restaurant's staff. "And, if it's not on the menu, our customers know they can still ask us about it."
Chef Davino, a native of Naples, goes back to Italy frequently to ask his uncle, also a chef, for tried-and-true family recipes. One such dish he recently brought back to Cuoco Pazzo is the stuffed veal specialty, which consists of pancetta, onion and provolone, stuffed inside fresh veal and cooked in wine and cherry tomatoes. It's served with a side of penne pasta.
"People love it," said Angelica with a smile. "They also love our shrimp a la piccata with lemon butter, capers and artichoke – and our Zuppa di Pesce, which is Italian for a seafood soup, or stew."
"Stew?" I asked, my face wrinkled skeptically. "Is that too heavy for Charleston at this time of year?"
"Not at all," she replied.
"It has clams, fish, mussels and other seafood in it, so it's light. It's served with garlic crostini bread. People eat it all year round."
Besides the additions to Cuoco Pazzo's menu, another nod to Italian tradition is the new "family style" option, which includes a little bit of everything on the menu – even dessert. It's a great idea for groups who want to share the dining experience, since they can pass everything around the table and try various menu items.
And, if you're wondering if Cuoco Pazzo is still open during lunch hours, the answer is yes. In fact, they've just revamped a lunch menu, according to Chef Davino. Come in and enjoy salads, cold sandwiches and paninis. Sundays are another good time to visit; you can even bring your own bottle of wine and enjoy it without paying corking fees. For those who don't bring a bottle, the restaurant will offer a complimentary glass with an entree on Sunday afternoons.
"We want to satisfy our loyal customers, not ourselves," remarked Chef Davino. "It's not about what we want. It's what they want."
To learn more about Cuoco Pazzo's new options, visit www.cuoco-pazzo.com or call (843) 971-9034.