New Location Holds Promise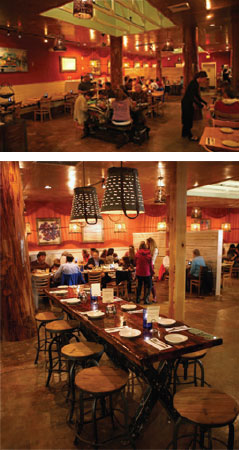 As delicious, gourmet lunches in Mount Pleasant go, Five Loaves Cafe has had a hold on the concept for quite some time. Co-owners Casey Glowacki and Joe Fischbein have been in the business for eight years East of the Cooper and even longer than that in their downtown Charleston location.
"Our concept was to bring the quintessential soup and sandwich lunch to Charleston," Glowacki explained. "I wanted to keep it gourmet and use the chef skills that I had garnished in culinary school."
When Five Loaves opened in its old location, the cozy corner of the Crickentree shopping center, the results were promising, and Mount Pleasant diners liked it. Glowacki said that business took off, and he quickly realized the value of offering a dinner menu. Thus the restaurant expanded.
"As more restaurants, excellent ones, open in Mount Pleasant, the time has come for us to revisit our concept as well," Glowacki said. "And it seemed to me that what we've been missing this entire time comes down to a full bar, craft beers, as well as a more inviting space."
The "new" Five Loaves Cafe will still be located in Crickentree but will take over the larger space that locals will recognize as the old Village Tavern. Glowacki and Fischbein are excited about the changes to the space's interior – it will look completely different, they said, and fans of Five Loaves are sure to be delighted.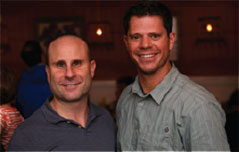 "We're using all reclaimed wood – cypress trees are the focal point – and we're using earthy, comforting tones and plenty of natural light," said Glowacki. "We'll also have crank windows, which we can open for fresh air."
Die-hard Five Loaves enthusiasts need not fret that the restaurant is changing its timeless menu; Glowacki assured me that the beloved entrees will still be available. What will change, however, is the fancy cocktail you can order alongside your meal.
"Our head bartender at Sesame, our other restaurant, is developing an innovative cocktail list," he said. "I can't tell you exactly what drinks will be on the menu right now, but I do know that our focus will be freshly-squeezed juices with seasonal, organic ingredients. I'm picturing gin and fresh lime juice with cucumber; I want local produce in these cocktails."
If you're not a liquor drinker, don't hesitate to enjoy the extended wine and beer list that Glowacki and Fischbein have up their sleeves.
Glowacki anticipates more visitors during cocktail hour, not necessarily for dinner but simply to wind down after a hard day.
"My hope is that ladies and gentlemen will stop in after work, share a glass of wine or craft beer and an appetizer," he remarked. "As we move Five Loaves Cafe into other regional markets, this is the direction I want to take."
Keep up with Five Loaves by visiting their website at www.fiveloavescafe.com, or give them a call
at (843) 849-1043.