Seppy's Hotdogs
On a mission to check out one of Mount Pleasant's newest eateries, I recently paid a visit to Seppy's Hotdogs. I left with a newfound appreciation for the simple but ultimately satisfying hot dog.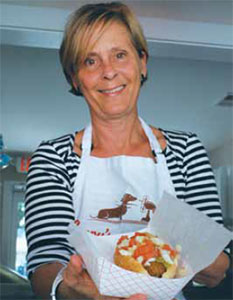 Established by Vaughn Daniel, who moved to the Lowcountry from eastern North Carolina and gave up a 20-year career in real estate development to become a purveyor of the most American of meals, Seppy's exudes simplicity. Built in the breezeway between a one-story brick house and a garage, the restaurant's 450 square feet is enough space to store and prepare the fresh ingredients needed to create 16 unique dogs and wait on customers. Seating is all under the sun, on tables and rocking chairs shaded by umbrellas and brightlycolored striped awnings.
"I wanted a backyard feel, a retro look," Daniel commented. "There are a lot of kids in Mount Pleasant, and Seppy's is family oriented. People ride their bikes or golf carts to get here. We want everyone to have a good time, kind of like in the good old days."
Seppy's conjures up memories of my childhood, when no meal was more highly anticipated than a juicy hot dog, tucked neatly or not so neatly into a bun and smothered in mustard, ketchup and pickle relish. This is where Seppy's deviates from the nostalgia of my youth.
Should I go with The Low Country, topped with homemade chili and pimento cheese? Would I be better off with The Carolina, featuring mustard, chili and slaw? Possibly my hot dog craving would be better served by The Seppy, with chili, parsley and caramelized onion spread? Or would I be happier with one of 13 other options?
And after I determined what my toppings would look like, I still had to choose my dog: all beef, Carolina smoked sausage, vegetarian or turkey.
Decisions, decisions, decisions.
I finally settled on all beef and The Chicago: mustard, Chicago sauce, onions, tomatoes and cucumbers. A few minutes and many napkins later, my choice was vindicated. I'd ascended to hot dog heaven.
But my dining experience was not quite over. Daniel twisted my arm until I agreed to sample a Dirty Pie On A Stick, a deadly combination of sweet, sour and crunchy. There was nothing left but the stick after I devoured the frozen key lime pie, covered with graham cracker crust and Ghiradelli chocolate. Daniel pointed out that this incredible treat currently isn't available anywhere else in the Charleston area.
Seppy's is for hot dog lovers of all ages. The 17th option is The Half Pint, a smaller all-beef dog, plain or with ketchup, and there's also The Children's Combo, which includes the dog, chips or apple sauce, a drink, a coloring book designed by Wando High School art students and crayons. For dessert, kids can opt for ice pops.
Seppy's is open seven days a week, and Daniel is there every day, greeting customers and growing a business that she hopes to someday expand throughout the Southeast. "It's important to be hands-on, to train the staff and hear the comments, good or bad, from our customers," she remarked. "You're only as good as they say you are."
Seppy's is located at 1537 Ben Sawyer Blvd. in Mount Pleasant, just a few hundred yards from the bridge to Sullivan's Island. For more information, call (843) 619-1313 or visit www.seppyshotdogs.com.