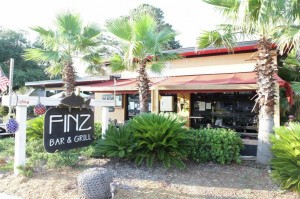 As I approached Finz, a local restaurant with a funky feel located just off of Coleman Boulevard, my stroll slowed and my nostrils were engulfed by the scent of slow-smoked barbeque brisket, beef tips and wings. I opened the restaurant's swinging glass door and was greeted by the friendly chatter of the 4 p.m. regulars.
"Man, the Cowboys are looking tough this year," boasted a man to his friend sitting across the bar, as he munched down on a plate of 35-cent happy hour wings.
Soon, owner/chef Chad Shores greeted me at the bar. After a lifetime in the restaurant business, Shores decided to open Finz four-and-a-half years ago and is proud of how it has developed into one of the more popular eateries East of the Cooper.
"I've put a lot of work and pride into this place, and, after being in the industry so long, it really feels great to find something that works," said Shores, gesturing to the restaurant's inviting design.
Although the place was fairly busy for a Tuesday at 4 p.m, Shores said it doesn't compare to Fridays, when customers begin showing up from the moment the doors open at 11a.m.
"So, how many people do you think come in here on a Friday?" I inquired.
"Well, we usually sell anywhere from 1,000 to 1,200 tacos, so figure that one out," Shores chirped with a grin.
Tacos aren't the only food guests can find at Finz. Recently, the restaurant began offering a Sunday brunch that pairs late-morning eats, such as smoked corn beef Reubens and lobster and grits, with early-afternoon drinks such as the Freaky Flamingo.
A central feature of Finz is its relaxing atmosphere. As the hot Lowcountry summer turns to fall, Shores opens the retractable windows and turns his place into an indoor/outdoor bar. His customers apparently appreciate the ambience.
"I love when someone comes in for one drink and stays for dinner," he said.
I gazed at the flat-screen TVs, folks in sandals, boat murals, fishing trophies, fishing rods and pictures of Shores' friends fishing.
"This place definitely doesn't feel like work," I thought out loud.
While I gawked at Finz unique décor, Shores opened the menu. "You hungry?" he asked.
Just minutes after nodding my head in confirmation, he brought out a four-course meal that displayed Finz' ever-changing and fresh menu. I was staring longingly at black and white sesame encrusted tuna with a wasabi aioli, twin-seared peppered scallops with a citrus chutney, three tacos – tuna, buffalo shrimp and steak – and blackened tenderloin beef tips with a Southwestern horseradish.
I was in heaven.
While I ate, Shores and I began discussing typical Finz customers.
"That's the thing," Shores said. "Our crowd here is always diverse. Our rotating menu, live music five nights a week and daily specials give our guests something different to look forward to every day."
Story by Cullen Murray-Kemp