I look forward to the impending return of spring, not just so I can wear tank tops and dive into the swimming pool at the neighboring apartment complex but also so I can order the barbecue chicken chopped salad at Burtons Grill.
You might think that's a little silly; after all, it's just salad. But if you've tasted it, you know just what I mean. And if you've ventured to Burtons Grill, one of Mount Pleasant's most diverse new restaurants, well, you're lucky.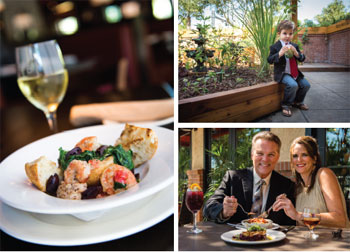 Burtons prides itself on providing patrons with the best selection of fresh salads, sandwiches, beef and seafood. Owner John Pauciello described the establishment as "contemporary American cuisine," but what sets the menu apart is the restaurant's solemn pledge to heed the requests of the local population.
"We don't refer to ourselves as a chain because we adjust to fit the market," Pauciello explained. "For example, Burtons Grill places emphasis on healthy ingredients and flexibility in preparing special meals for special diets. We use a lot of produce from Boone Hall, Thackeray and Ambrose Farms, as well as Rosebank Farms. We also use fresh seafood and local shrimp."
Though I'll miss my salad, the winter menu at Burtons is nothing to be discouraged about. Entrees include chicken and wild mushroom ravioli, braised short ribs and the everpopular lobster and shrimp pasta.
"I suggest pairing the lobster and shrimp pasta with a red wine on a cooler evening," Pauciello remarked. "It's my personal favorite."
The wine and cocktail list at Burtons is extensive and well-researched.
"Before we opened the Mount Pleasant location, we came down here and put an ear out for what the locals drink," said Pauciello. "We went to tastings, scouted out the local breweries for beer selections and got our ideas together while the restaurant was under construction. Now we feel confident about what we offer."
Burtons' chef, Chase Barton, came to the Mount Pleasant location after enjoying his time as the lead chef in Virginia Beach.
"We are fortunate to have Chase join us at this location," said Pauciello. "He and his wife – who is doing her residency at MUSC – are excited to be here. Chase loves the farm-totable trend in this area."
Besides supporting local cuisine, Burtons takes pride in offering gluten-free menu options.
"We put our glutenfree menu items on a square, not round, plate," said Pauciello with a grin. "We want our guests to know that we take their requests seriously."
If you're planning a party, the private dining room at Burtons is an excellent option to consider. There's no fee to reserve the room, and guests can create their own personalized menus. There's also ample room to sit outside with your friends; the patio and herb garden offer an inviting atmosphere.
Contact Burtons Grill by visiting site.burtonsgrill.com/stores/mt-pleasant-sc or by
calling (843) 606-2590.
Photography by Andy Hagedon