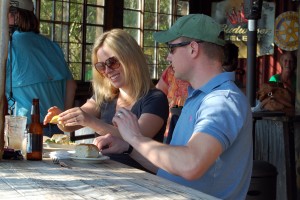 I had lunch before my 2 p.m. meeting with Geoff Wisdom, general manager of Vickery's on Shem Creek. I sat at the bar since I was alone but quickly realized that Vickery's actually has one of the friendliest bars in town, particularly for it to be the middle of the day. During the course of my delicious salmon BLT, I struck up conversations with the girls sitting beside me, who were happy to include me in on their discussion about modern, single women. And I got to know the bartender and realized that, despite it being a Wednesday afternoon, the place was lively and filled with regulars who all knew each other's names and cocktail preferences.
"We do have a bunch of regulars," said Wisdom a while later, when I told him how much fun my bar lunch had been. "We draw a lot of locals and people in the hospitality industry, especially because we serve food until 1 a.m. and are open til 2. It's a laid-back place to relax at night."
Known for a quirky, fun menu inspired by the Caribbean, Vickery's has been a staple on Shem Creek for years, and Wisdom has managed the location for five.
"I love the Mac-n-Cheese Benedict during brunch," said Wisdom. "For dinner, my favorites are our Seafood Sautee or the Shrimp, Sausage and Grits."
Enjoy the laid-backness of Vickery's this summer with the restaurant's award-winning outdoor seating (voted the best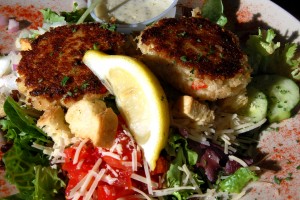 by the readers of Mount Pleasant Magazine) and a handcrafted cocktail. Wisdom highly recommends the bloody mary, his personal favorite.
"Our bloody marys, with local Chilled Dill vodka, are delicious," he said. "We also make our own mix."
Other favorites for summer are the cosmopolitans and, of course, mojitos. Wisdom expects that Mount Pleasant residents will enjoy a drink at either the popular Sharkfin bar upstairs or the Muddy's dockside bar downstairs. If you're a fan of Muddy's, be sure to check out the Sunset Sessions with radio station The Bridge, on the fourth Wednesday of each month. The sessions include drink specials and live music from 4:30 until 8:30 p.m.
"Guests will often park boats at the city docks and walk," remarked Wisdom. "We also encourage guests to use the water taxi service, which runs between downtown Charleston and Mount Pleasant during the warmer months. It's a great way to get around and experience different bars and restaurants. With the summer crowds, parking lots can become quite full."
Sunday brunch is another great reason to visit Vickery's on a nice weekend. Far from tired eggs-n-toast offerings, the Vickery's menu is an enticing assortment of seafood dishes such as the Southern Style Crab Cake Benedict and the Seafood Quiche, plus comfort favorites such as the famous Mac-n-Cheese Benedict and Baked French Toast. Wash your meal down with a Bellini or a Mimosa; get a whole carafe for the table. Hey, it's summer in Mount Pleasant.
By Denise K. James
Photos Courtesy of Vickery's