The holidays are a time for indulgence, and rightly so; after all, we've survived another year. But once the last peppermint martini has been swilled and the last bite of cake has been munched, it's time to think about getting back into shape.
I recently caught up with Dr. Jack Hensel, of Lowcountry Plastic Surgery Center, and found out some interesting tidbits about available weight loss methods. No, there is no "magic pill." Yes, you'll still have to watch your diet and get on that treadmill. But science is here to help.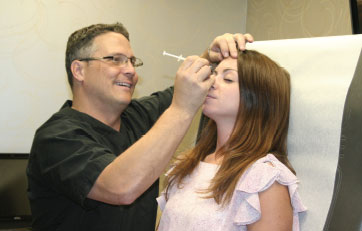 Dr. Hensel and his wife, Michele, have been helping East Cooper residents achieve their desired appearances for a while. After practicing general surgery in the Lowcountry, Dr. Hensel left the area to train in plastic surgery and eventually returned to Mount Pleasant, initially locating his practice in the Roper building off of Long Point road.
"We now have two separate businesses under the same roof," explained Dr. Hensel of the new location, which is off the Isle of Palms Connector on Two Island Court. "We want to provide everything people might need in one place."
As part of the Beauty and Wellness Spa, the Hensels offer a product called hCG, also known as Human Chorionic Gonadotropin. That may sound like a mouthful – hence the shortening of the term – but the concept is surprisingly simple.
"hCG is a hormone that appears during pregnancy," said Dr. Hensel. "The hormone on its own will not make you lose weight, but it works by changing what the body uses for fuel. With hCG supplements, along with a low-calorie diet, fat is burned before the protein – which is preferred, since protein is muscle, and muscle is directly connected to your metabolic rate."
Dr. Hensel went on to tell me that hCG is not as brandspanking- new as I thought. The first study, called Pounds and Inches, was published in 1942 by A.T.W. Simeons.
"Using hCG for weight loss is still somewhat controversial today," remarked Dr. Hensel. "People wonder if it's dangerous and whether it works. The answers are no, it is not dangerous, and yes, it does work. Patients administer their own shots from home, and it's motivating for them to watch their bodies shed half a pound to a pound per day."
Besides hCG, the Lowcountry Plastic Surgery Center offers a brand new technique called Cellulaze, which is the newest way to ban stubborn cellulite.
"The treatment consists of using a laser to make tiny incisions under the skin," said Dr. Hensel. "It basically changes the way the skin attaches to underlying fat and muscle. We're just now getting our first patients back for their follow-up appointments. Results are long-lasting and can appear as quickly as within two weeks."
Smartlipo, a technique that uses the same laser but different settings, is another option patients may want to try to get rid of stubborn fat. Even though Smartlipo is technically considered liposuction, it's minimally invasive and recovery time is short.
Learn more about the Lowcountry Plastic Surgery Center and Beauty and Wellness Center at www.lowcountryplasticsurgery.com/dr-hensel/ or www.sccellulazeandsmartlipo.com.