No Need to Run on Empty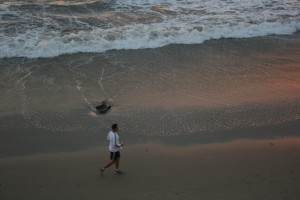 Running at peak efficiency requires a delicate balance of carbohydrates, fats, and proteins in order to maintain the energy required to sustain your regular workouts. A consistent, healthy diet is the most important part of staying energized and focused, but there are many high-energy foods, including fruits, whole grains and low-fat dairy snacks that are great for providing the energy necessary for motivation and to help you power through the finish line.
Before You Run
Many runners make the mistake of carbo-loading or over-hydrating the day before a big race. It is important to drink enough water to keep you hydrated for a few days before the race and most experts recommend drinking 16 ounces of water two to three hours before it starts. This gives your body plenty of time to digest the excess fluid.
Make sure to stick to foods you know, eat a varied diet of nongrain carb sources, such as fruits and starchy vegetables, avoid the temptation to overload on carbohydrates and fiber, and always get a good breakfast including fruits, low-fat dairy foods, and whole grain the morning before a big run. An hour before your workout, a handful of peanuts or almonds or a cold smoothie will provide all the energy you need to get across the finish line. Fruits are the perfect source of sugar and vitamins. Bananas are rich in potassium, which helps to avoid muscle cramping and dried fruits such as raisins and prunes replace the iron in your blood lost during a run, which leads to fatigue. Mixing fruits with low fat dairy foods such as yogurt and milk, in a smoothie or by themselves, provides the necessary protein, carbohydrates, and potassium you need on a run.
Smoothies for 1
Step 1: Liquid
4-8 ounces of liquid such as water, milk, or fruit juice

Step 2: Fruits and vegetables
½-1 cup of produce such as bananas, mangos, kiwis, carrots, kale, or whatever you like!
Step 3: Fats and proteins
One serving of healthy fats such as seeds, soybeans, or low-fat peanut butter
Step 4: Sweeteners
Add honey, agave nectar or other natural sweeteners to taste. Many runners enjoy ground spices such as nutmeg or ginger as well.
Step 5: Ice
1 cup of ice for a milk shake like consistency, ¼-1/2 cup for a thinner smoothie.
While You Run
For runs under 90 minutes, the majority of the energy burned comes from glycogen stored in your muscles. After this glycogen runs out, the sugar in your blood and your liver glycogen become more important but often are not enough for strenuous runs. Most serious runners prefer sports drinks because they allow you to rehydrate and recharge at the same time but a little snack on the trail is often enough to get even the most worn out runner to the finish line. There are many products that offer small, easily digestible foods like energy bars, energy gels, and sports jellybeans designed for long-distance runners to eat on the go and some runners like to experiment with other easily transported foods like gummy bears, candy corn, and pretzels. Experiment with different snacks on those longer runs and find out what works best for you!
4-Ingredient Banana Oat Bars
2 large, very ripe bananas
2 cups rolled oats
¼ cup pitted, chopped, dried dates
¼ cup chopped nuts- walnuts, pecans, or almonds
grated nutmeg or cinnamon (optional)
• Heat oven to 350˚F and lightly grease a 9×9-inch square baking dish with olive oil or butter.
• Peel the bananas and mash until there are no chunks remaining and add oats, dates, and nuts.
• Pat the mixture evenly into the baking pan, sprinkle with nutmeg or cinnamon if desired, and bake for 30 minutes.
• Allow the pan to cool on a rack, cut, and place in individual bags for when you need that extra boost of energy!
After You Run
Now that the work is over, it is important to replenish the proteins and sugars lost during your run and eat foods that will aid in muscle recovery. Many experts recommend dairy products such as low-fat cheese, Greek yogurt, or chocolate milk to replenish lost carbohydrates and proteins. The lean protein found in chicken breasts or egg whites are great sources of energy and are quick and easy ways to get a hearty meal even when all you want is to lie down and sleep.
Low-fat Chicken Tacos
1 chicken breast
1 serving of microwaveable steamed rice
Spinach
1 whole wheat tortilla
¼ onion
¼ tomato
Cilantro
Lime juice (optional)
• Cook chicken in a medium skillet over medium heat and simmer until chicken is no longer pink, 15-20 minutes.
• Dice onions, tomatoes, and cilantro and combine in a bowl with lime juice.
• Cook rice according to directions on package.
• Combine chicken, rice salsa, and spinach in warmed whole-wheat tortilla and enjoy!
Compiled by Ben Davis.