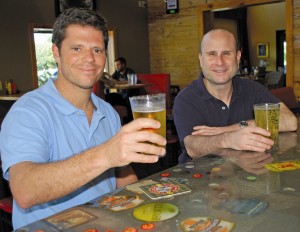 A hamburger is sometimes nothing more than a slab of previously frozen meat, topped with a few onions, maybe a skinny slice of something that passes as cheese and slapped unceremoniously between two halves of a tasteless bun. A mediocre burger might do to extinguish your hunger, possibly between innings of a baseball game or while you're driving to the beach, but it will always lack the imagination and innovation to be considered a real restaurant meal.
That is, unless the meal is served up at Sesame Burgers and Beer, where, according to co-owner Casey Glowacki, "The ordinary becomes extraordinary."
"We want our customers to feel like they dined on a hamburger, and we want them to feel good about it," said Glowacki, who, along with Joe Fischbein, owns three Sesame Burgers and Beer locations in the Charleston area. The newest addition has been open on Johnnie Dodds Boulevard in Mount Pleasant for about a year.
So what makes Sesame an extraordinary place to dine on an extraordinary hamburger? Maybe it's the all-natural, hormone-free beef, ground fresh at the restaurant, or, quite possibly, it's the homemade ketchup, mustard and mayonnaise or the option to choose a gluten-free bun. It might be the incredible range of potential toppings, from 14 varieties of cheese to sliced apples to fried eggs to chipotle sour cream to bananas. You can visit Sesame every day for a year and never consume the same burger twice.
But bananas?
Paired with bacon and peanut butter, that's what you'll find on top of the Memphis, reportedly a favorite of the late, great Elvis Presley. The burger is a creation of Paul Bracewell, the general manager of the Mount Pleasant location.
"Burgers are like pizza. You can put just about anything on them," said Glowacki. "As long as there's a sweet and salty combo, you can get away with a lot."
Glowacki's own personal favorite is the South Carolina, which is topped with homemade pimento cheese. The Napa Valley, which features fig and bacon jam, blue cheese and red wine reduction, is his current runner-up.
If you don't see exactly what you want among Sesame's 14 signature burgers, you can build your own from a list of nearly 50 toppings. You can even have your burger without a bun – in a bowl – and, instead of beef, you can choose a chicken breast, black bean burger or turkey burger, which is actually a combination of turkey and chicken.
And, if you just can't decide, you can order three small sliders, each with different toppings.
Sesame is more than just interesting, innovative burgers. There are also appetizers, salads, sides, sandwiches and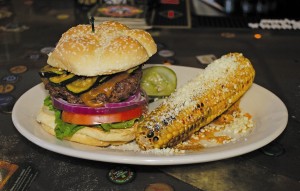 desserts. And to wash it all down, Sesame has 20 craft beers on tap, some of them unavailable at other Lowcountry bars and restaurants. Interesting possibilities currently in the lineup include Rodenbach Grand Cru and Green Flash Barleywine Ale.
If beer is not your beverage of choice, Sesame offers an array of milkshake flavors, some of them meant for adults only. They all start with vanilla ice cream and milk. The Hazel Nut Joy also includes chocolate, frangelica and Malibu rum, while the Cherry Bon Bon is a combination of amaretto, chocolate, cherry and grenadine.
As the name of the restaurant indicates, burgers and beer play a starring role at Sesame. But the supporting cast is impressive as well.
"We have burgers, salads, fish tacos, fries and shakes," Glowacki commented. "There's something for everyone. Everyone leaves here happy."
In addition to Sesame Burgers and Beer locations in North Charleston, West Ashley and Mount Pleasant, Glowacki and Fischbein own two Five Loaves Café restaurants. For more information, visit www.sesameburgersandbeer.com.
Story and photos by Brian Sherman