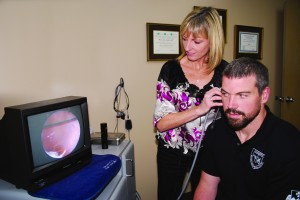 I have a confession to make. Sometimes I'll get into my car and crank it up, only to become horrified at the decibel of rock 'n' roll that blares from the speakers. But until my conversation with Dr. Mary Anne Larkin of Advanced Hearing Care, I never contemplated the impact of some loud Led Zeppelin on my own 30-something ears.
Dr. Larkin, who has been practicing audiology for 30 years, has been on her own for 20 of them. Because she wanted more quality time to work with patients, she opened her Mount pleasant practice with the intention of educating young and old on hearing loss and restoration.
"If you have normal hearing, you tend to take it for granted," she commented. "You don't even think about it, but for patients who have decreased hearing, it can be stressful."
Beyond not being able to hear certain sounds, hearing loss can have negative medical consequences. A study published by the Johns Hopkins University School of Medicine revealed that individuals with untreated hearing loss had an increased risk of developing dementia.
"When you strain in order to hear, you exhaust other cognitive resources," explained Dr. Larkin. "The strain of those resources can lead to a higher risk of dementia. Studies are being done to determine definitively if correcting hearing loss decreases the potential for early onset dementia."
Dr. Larkin also was careful to point out that hearing loss has become prevalent with younger people lately, given the use of technological devices. For example, using an iPod at full volume can be quite damaging to one's ears, even for a time span as short as four minutes. Learning tips such as this can mean the difference between better hearing for later years, which is one of Dr. Larkin's objectives at Advanced Hearing Care.
"Many people do not understand what is involved in total hearing restoration and preventive care," she said. "That's why at Advanced Hearing Care we offer classes in order to educate patients and families about the importance of aural rehabilitation and how best to use their hearing technology in a variety of challenging listening situations."
Dr. Larkin stressed that hearing loss is an important health care issue, not something that ought to be fixed with a quick trip to a discount store.
"It's important to seek the advice of a doctor of audiology," she said. "People with hearing loss might purchase a hearing aid on a whim in a retail establishment, but they will not have the expertise of a doctor to help select what technology is the best for them — and, more importantly, to educate them on hearing rehabilitation. Being fitted with hearing instruments is only a part of a responsible solution toward better hearing."
May is National Hearing Month, and Dr. Larkin urges everyone — not just those currently experiencing hearing loss or seniors — to think carefully about the importance of hearing and lifestyle.
"Hearing loss is what we call the invisible handicap," she mused. "It can, and often does, have a major impact on a person's work life, home and social life. So receiving help can definitely improve the quality of your life."
By Denise K. James
Photo by Brian Sherman